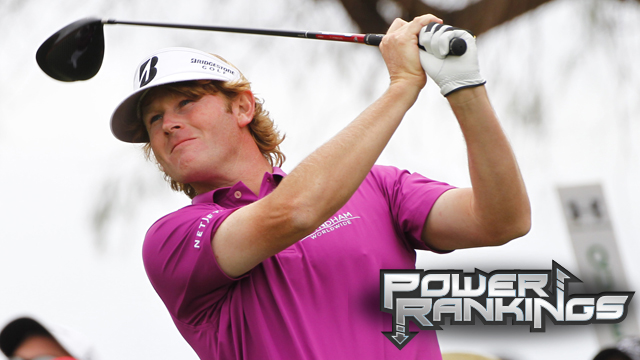 Money lists and FedEx Cup lists are fine, but they're incomplete. They don't account for the European Tour and sometimes don't accurately capture dominating performances. 
Each week, Kyle Porter will put together a list of the 10 best golfers in the world right now based on a variety of factors - some subjective but most objective.
Wins trump most other things. He'd love to hear your thoughts in the comments section.
Brandt Snedeker put it pretty succinctly last week when he said "I feel like I'm running into Hall of Famers every week."
It's been two future ones (Tiger Woods and Phil Mickelson) that have kept him in second place in each of his last two events.
Add a T3 for Snedeker at the Tournament of Champions and a top 25 finish at the Sony Open to his back-to-back second place finishes and we have the defending FedEx Cup champion backing up his title with one of the more impressive non-Tiger starts to a season in recent memory.
While it's true that wins are all that matters to golfers like Snedeker, Woods, and Mickelson, consistency counts for something too when putting together a power ranking of the best golfers in the world.
I can't keep Snedeker on top forever without a win but for this week he stands alone as the best golfer of 2013.
2013 PGA Tour Power Rankings
| | | |
| --- | --- | --- |
| 1 | | Leads the money list and the FedEx Cup despite not having won yet. His score at the Phoenix Open would have won that tournament all but two times since 1932. |
| 2 | | One PGA Tour start, one PGA Tour win. He'd be No. 1 if not for that disastrous start in Abu Dhabi a few weeks ago. |
| 3 | | He leads the Tour in scoring average (69.11), top 10 finishes (three), and par-five performance (-38). The only golfer besides Snedeker to clear $700,000 on the money list without a win. |
| 4 | | 37th at the Humana Challenge, barely making the cut at the Farmers Insurance Open, then one of the most dominating performances in golf history at the Phoenix Open. |
| 5 | | Looked so good at the season opener in Kapalua that I have to put him here even though we haven't seen much of the big swinger since (Paulina Gretzky's Instagram feed aside). |
| 6 | | He's third on Tour in scoring average and backed up his Humana Challenge win with a solid top 25 at the Phoenix Open. The four-time PGA Tour winner is playing some of the best golf of his career. |
| 7 | | It's hard to believe a guy who fell three shots shy of the 72-hole scoring record would fall outside the top five but two finishes outside the top 50 in his last two tournament have him sliding a little bit. |
| 8 | | Hasn't played stateside yet but has a win and a top 40 in Europe in some pretty salty early-season fields. |
| 9 | | Hasn't played the last two weeks but a three-for-three start on top 20 finishes is good enough for me to include him in the top 10. |
| 10 | | He's been a bit Mickelson-esque in his volatility thus far. A 77 to open the Farmers Insurance Open in which he would eventually finish T6, a T6 at Kapalua, then a missed cut at the Phoenix Open. Lefty would be proud. |