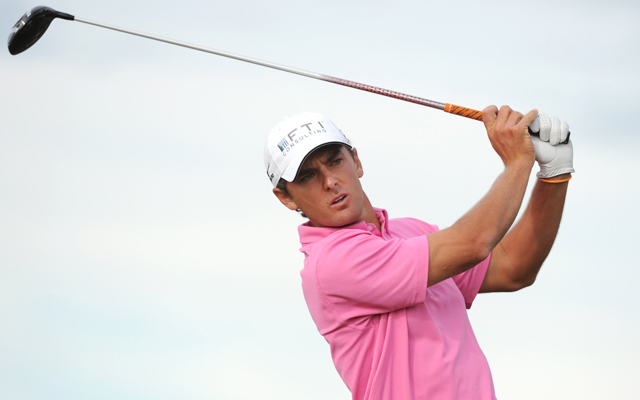 In doing these power rankings the last few weeks I realized how much more difficult they are to do than, say, baseball or basketball power rankings. In those sports every team generally plays the same number of games in any given week or month. In golf some guys (like Tommy Gainey) play every event whereas people like Rory McIlroy and Tiger Woods barely play at all.
It's difficult for me to rank a golfer ahead of somebody like Woods or Louis Oosthuizen -- both of whom have won at least one of the very few tournaments they've played. You have to be scorching hot to surpass those guys (see: Brandt Snedeker and Charles Howell).
Speaking of Howell, the Oklahoma State grad is playing the best golf of his career. In fact, he's a missed putt (and win) on the 72nd hole at the Humana Challenge from taking the No. 2 spot on my list from Woods.
Howell's T3, P2, T9, T36 start is matched only by his T4, T6, T28, T12 start in 2002. He's been oft-maligned in the media for not being able to close, but never recognized enough for putting himself in position to win.
The Augusta native could add a little intrigue to the upcoming Masters with a win between now and April and while he most likely won't catch Snedeker anytime soon in our rankings, a good outing at the Northern Trust Open could solidify his spot in the top 10 for the first quarter of the season and beyond.
But while we wait to find out what we're getting from Rory McIlroy, golfers like Jimmy Walker (two top 5s in his last three events) and Chris Kirk (two top 5s and a top 25 in four events) continue to climb the power rankings list.
I expect this list to shake itself out in the Florida run to Augusta, with the cream (golfers like McIlroy, Luke Donald, and Adam Scott) rising to the top to take the place of some of these rookies and grinders.
But for now, these are the 10 best golfers in the world.
2013 PGA Tour Power Rankings
| | | |
| --- | --- | --- |
| 1 | | His $2.85 million in prize money thus far this year would have ranked 26th on last year's final money list. |
| 2 | | Tough to move him from this spot when he hasn't lost to anybody in the states yet. |
| 3 | | Skipped Pebble but he'll be back in the field this week at the Northern Trust Open. |
| 4 | | Two starts in Europe and one win for Oosthuizen. Won't play again until the Match Play Championships. |
| 5 | | Only has one final round (out of five) over 67 this year. A good showing at Riviera could vault him to No. 3. |
| 6 | | Can't ignore that Humana Challenge win and he sits second in FedEx Cup points. |
| 7 | | Hasn't missed a cut yet, I feel a dropoff coming though. |
| 8 | | Most he's ever made on Tour is $1.8 million, already halfway there at $950,000 this year. |
| 9 | | Doing Mickelson things. Hasn't missed a cut but hasn't really competed other than his monster win at the Phoenix Open. |
| 10 | | Four 65 or under rounds so far this year. He's another top 10 performance from making everyone forget about that Ganghahn Style thing. |