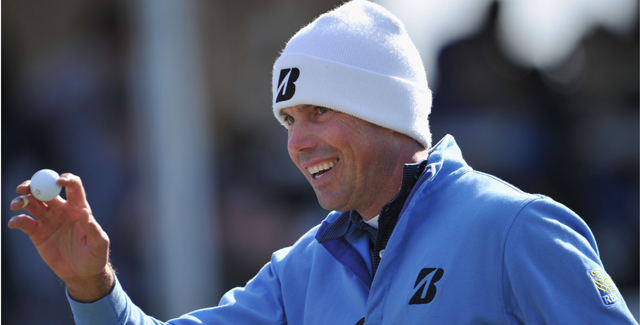 We tend to overvalue how much Match Play affects the hierarchy of golf power rankings. Instead of seeing it as one large tournament to be factored in with all the other large tournaments, we see it as three or four or five smaller tournaments -- each played against a different competitor.
It is the nature of match play. But the reality is that only eight golfers played at least a full four rounds last week. And Matt Kuchar was only absolutely better than six guys -- the ones he faced. If he had been paired up with someone different he might not have made it out of the first round.
In fact, Kuchar was on pace to shoot a 71 in his first round match with Hiroyuki Fujita. That's not great. It actually wouldn't have won a lot of the first round matches (example: Tiger Woods was on pace to shoot a 70, and lost).
But you can only beat the guys in front of you, and Kuchar did plenty of that. Striping Fujita, Sergio Garcia, Nicolas Colsaerts, Robert Garrigus, Jason Day, and Hunter Mahan in succession -- never even playing the 18th hole all week.
He does break into our power rankings this week -- but mostly because he's only been outside the top 16 once in five tournaments this year.
"He's better than everyone! It was the strongest field yet!" "Make him No. 1!" you might say. I say he beat six guys.
This is the same reason Tiger Woods doesn't fall much from his spot at No. 2. He lost to one guy, yes, but he would have beat plenty of others on the same day. He's hitting the ball and scoring well and just because Charles Howell played out of his mind for 17 holes, that doesn't change what Tiger is doing.
Here are our power rankings for the week.
2013 PGA Tour Power Rankings
| | | |
| --- | --- | --- |
| 1 | | I can't bump him because of an injury after two T2s and a win at Pebble Beach. We'll see how long he's on the shelf but the top spot is his for the foreseeable future. |
| 2 | | Bad pairing with Howell, there wasn't a bogey to be found. He hasn't been over par yet in the U.S. this year. |
| 3 | | I admit the sample size is small but he did win a European tournament and hit it well at Dove Mountain (he was -3 when he lost to Robert Garrigus). Big week for him at the Honda Classic. |
| 4 | | Says there's a 10-year learning curve on the PGA Tour. This is his 11th full year. Has three top 10s and a win. Hmm... |
| 5 | | The streak of not trailing for 169 straight holes at the Match Play Championship was way more impressive than making the finals two years in a row. |
| 6 | | Loved this story about Jacobson's putting stroke. He's making good use of it too, T7, T3, T9 in his last three events. |
| 7 | | Is Jason Day back?! Oh wait, we can only ask that of Tiger. Day has three top 10s in four tournaments. That's good. |
| 8 | | Lost in the first round at the Match Play Championship, but here are his three tournaments before that: T3, T6, T9. Hot as anyone right now. |
| 9 | | He stared Tiger down but got beat the next round and was cut at the Northern Trust Open. His white-hot first month is fading pretty fast. |
| 10 | | Loved seeing some fire from him at the Match Play Championship. Jason Day said he was "pretty pissed" about a few of the putts Day didn't give him. Good, that's what I want in my champions. |