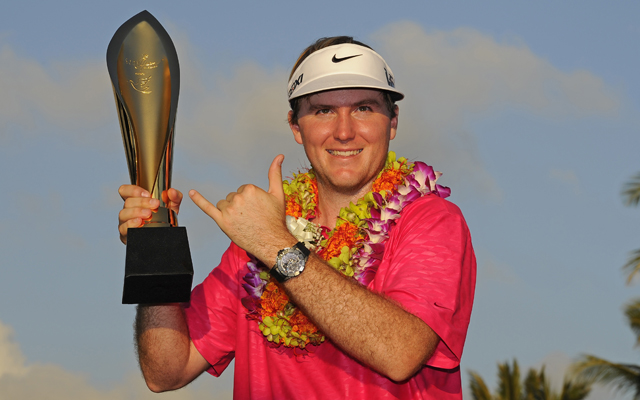 Rookie Russell Henley's great win at the Sony Open wasn't a flash in the pan. The Georgia grad has only played in six tournaments and, other than a cut at the Northern Trust Open, he's been competitive in all of them, including an underrated T13 finish at the Honda Classic last weekend in which he only carded one round over par.
It's safe to say that after the first two months of the PGA season that Henley is the leader in the clubhouse to win 2013 Rookie of the Year honors. But after playing in only six tournaments, it's hard to rank him above the rest of the golfers who have already proven themselves on the PGA Tour.
If Henley continues to play as well has he has through the rest of the Florida tournaments, it's a safe assumption that he'll be moving up the power rankings quickly.
The age old question is upon us this week: is it better for your power ranking to play tournaments and play at a mediocre level (see: Tiger Woods at the Honda Classic) or to skip tournaments altogether and leave it up to the imagination of the blogger making the power rankings (namely: me) what could have been?
Matt Kuchar, Jason Day, and Hunter Mahan tested that theory last weekend and I rewarded them handsomely this week with a bump up in the rankings. This was mostly due to the fact that the golfers ahead of them (Woods and Louis Oosthuizen) faltered in Florida.
Now, I'm not suggesting golfer should skip every tournament to keep their power ranking (that would be highly unprofitable and extremely stupid), but I am saying they should pick their spots.
Unfortunately, this lends itself to only the bigger-name guys being included in the power rankings. Golfers like Scott Piercy, Chris Kirk, and Charles Howell III can't afford to skip tournaments. They're trying to qualify for majors and rack up as much cash and as many OWGR points as they can.
And when you play every week, it becomes extremely difficult to play at a top 10 pace consistently, and thus be included in the rankings.
Take Charles Howell for example. He's played in seven of the nine tournaments this year and, despite a crazy hot start, I can't include him in our rankings because he's had a cut and a T29 in two of his last three weekends.
Compare that to Matt Kuchar. Kuchar has only played in five tournaments but he has two top 10s and a win. And he's playing better golf than Howell right now.
Here are the full rankings.
2013 PGA Tour Power Rankings
| | | |
| --- | --- | --- |
| 1 | | Only golfer in the top 50 not playing Doral this weekend so he'll likely keep his top spot for another week unless Mahan, Kuchar, or Rose wins. |
| 2 | | Having one of the underrated seasons of any golfer on Tour. T26, T15, T16, T16, T8, 2. That's what his finishes look like this year. Bodes well for Augusta. |
| 3 | | Lone bump on his 2013 road is a T38 at the Northern Trust Open. Other than that, he's been close to flawless. |
| 4 | | His finishes this year between the European Tour and PGA Tour: T2, T16, T17, T4. I think he makes a run at defending his WGC-Cadillac title. |
| 5 | | Another guy who hasn't played much but has performed well when he has played. Three top 10s in four starts. |
| 6 | | I'm all in on Schwartzel. His three non-Match Play starts this season on both Tours: 2, T3, and T9. Has yet to play poorly. |
| 7 | | In his worst outing of the season last week he won $50,000. Nice work if you can get it. |
| 8 | | In his last three non-match play tournaments he's gone T9, T6, T3 so if you believe in trends, he's set up for a big week at Doral. |
| 9 | | Said after his round on Sunday the he "didn't play that poorly but had two water balls and a lost ball." Sounds pretty poor to me. |
| 10 | | Color me impressed by the rookie. Thought he would have fallen off by now but he's actually playing some of his best golf of the year. |