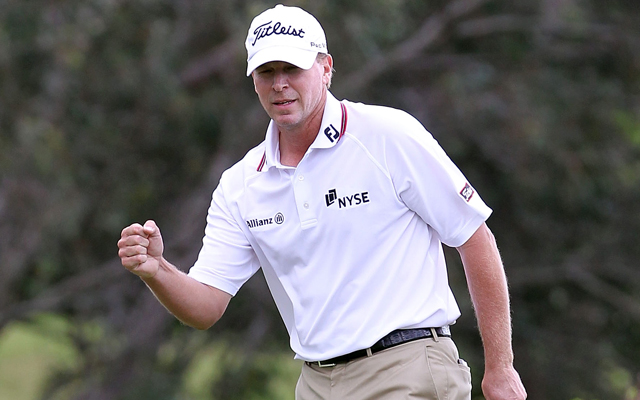 Most people don't make $1.8 million in their first three months of retirement.
Most people are not Steve Stricker though.
Stricker has played a grand total of three tournaments this year -- one in each month. He is 10 weeks into his semi-retirement and currently sits at fourth on the PGA Tour money list.
Nice part-time work if you can find it.
He is also currently petitioning for another gig as Tiger Woods' putting coach. Stricker joked at the WGC-Cadillac Championship that if Woods would actually hire him, he wouldn't play at all:
"I told [Tiger] if you put me on your payroll, I could play a little bit less."
The real zinger is how far Stricker has come in the last few years. He completely lost his PGA Tour status in 2005 but has rebounded resoundingly since then. Consider: in 2005 on mostly sponsor and tournament exemptions, he missed more cuts (11) than he made (10).
This year he has more top two finishes (2) than anything else (1). And it's his putting that's carrying him (what else would it be?) Stricker leads the Tour in strokes gained per round via the putter (1.30).
He's also second in birdie average, second in greens in regulation, and first in scoring average. He's second on Tour in top 10 finishes even though he's only played in three tournaments.
I hope people see him as more than a boon to Woods' putting game because Stricker is riding off into the retirement while the sun is shining brighter than ever.
Here are the full rankings.
2013 PGA Tour Power Rankings
| | | |
| --- | --- | --- |
| 1 | | Two wins in three stroke play tournaments, thank you very much. |
| 2 | | I said only a two-time winner would knock him off his pedestal and we got that quite resoundingly last weekend. |
| 3 | | Couldn't defend his Cadillac title but a top ten finish means he moves up in the rankings once again. |
| 4 | | Hasn't seen anything north of a top five finish in 2013. |
| 5 | | Was poised for another monster week at Doral until a 74 on Sunday derailed him. |
| 6 | | Was poised for another monster week at Doral until a 75 on Sunday derailed him. |
| 7 | | Getting hot when it matters most -- Augusta time. He's gone T5, T9, T3 the last three weeks. |
| 8 | | Told Augusta Chronicle: I've been in contention and feel like my game's always at a point where I can get into contention every time I play |
| 9 | | A little disappointed in his T25 at Doral, expected a top 10 for sure. |
| 10 | | A win and a top ten finish in back-to-back weeks. Welcome to the party, Michael, yes I totally forgot about those three missed cuts earlier in the year. |