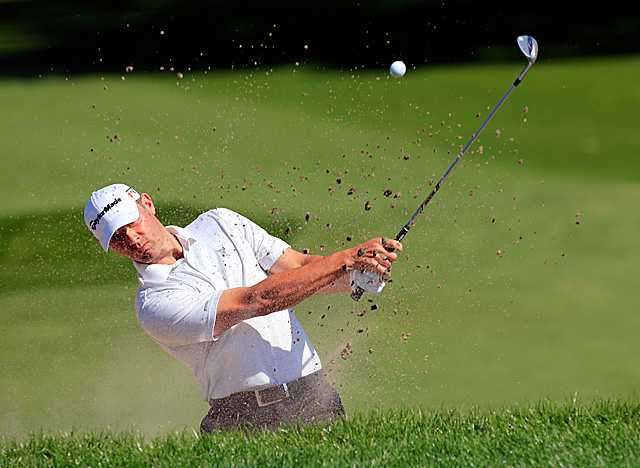 PALM HARBOR, Fla. --Shawn Stefani made all the putts he was supposed to make to keep the lead in the Tampa Bay Championship.
Stefani took only one putt on half of his holes to piece together a 1-under 70 on Friday and lead by one shot over Adam Scott among the early starters at Innisbrook. Scott played bogey-free for a 66.
Harris English made four birdies on the tough par 3s on his way to a 69. He was two shots behind, along with close friend Brian Harman (70), and Jason Dufner (66).
PGA Tour
More Golf coverage
Of the late starters, John Daly took himself out of the mix early with a 10 on the third hole. It was the 15th time Daly has made at least a 10 on the U.S. PGA Tour.
Scott hasn't shown much scar tissue from making bogeys on the last four holes to lose the British Open last summer. He finished the year by winning the Australian Masters, though it was a month later when he was working on his game at home on the Gold Coast that he experienced a significant turnaround with his short game.
"Just had a really nice feeling going that day, whatever it was, and I managed to get through the whole shag bag of balls hitting every chip the same," he said. "Everything was very controlled and consistent. ... I've felt my confidence grow on the course with the pitching and chipping."
Scott said when he was hitting the ball poorly in 2009, it put extraordinary pressure on his short game because he was missing greens. In this case, he said a solid short game has relieved any tension in the long game, and it's starting to show.
He closed with a 68-64 on the weekend at Doral, and carried that to a tougher Copperhead course at Innisbrook.
The Australian has a limited schedule before his next crack at a major next month. The Tampa Bay Championship is only his fourth event this year (and fourth in the last five weeks), and then he plans to shut it down until going to Augusta National.
Stefani only knows where Augusta is on the map. The rookie would have to win to get to the Masters, and while the tournament is only halfway over, each round gives him a little more confidence. He finally made his first bogey of the tournament on the seventh hole, and then rebounded with a 5-iron to 10 feet for birdie on the par-3 eighth.
He hit another high cut with a 5-iron on the 220-yard 15th hole for a short birdie.
"Today was a little bit more of a struggle," Stefani said. "Didn't really drive it super great. Didn't hit some of the best iron shots. But I scrambled well and I putted really great."
Stefani was at 7-under 135.
Scott played in the same group with Geoff Ogilvy, who is No. 49 in the world and needing to stay there by the end of the month to get into the Masters. Ogilvy was a runner-up at the Honda Classic to get back into the mix, though he was on the ropes early Friday with a 39 on the back nine. He birdied three of his last four holes for a 72 and wound up only six shots behind Stefani.
Ogilvy wants to get into the Masters so badly that he said he wouldn't watch on TV if he wasn't there. He used to watch all the time before he played the Masters.
Scott made a detour this week to Augusta for a practice round with Ernie Els, who won the British Open when Scott collapsed.
"I thought it was in the best shape I've ever seen it in this early in the year," Scott said. "It's Augusta. It's pretty much perfect."