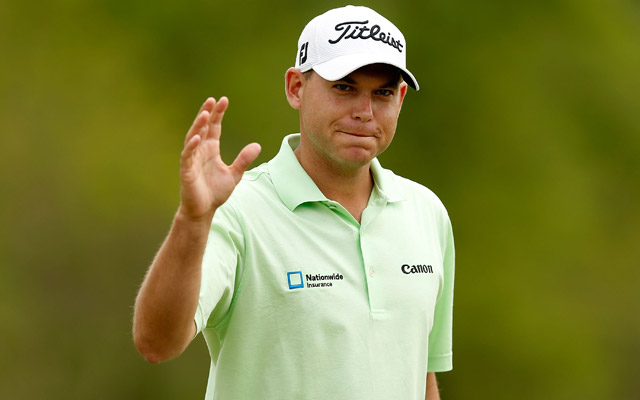 Do you know who leads the PGA Tour in top 10 finishes this season?
Tiger Woods? Negative.
Phil Mickelson? Nope.
Brand Snedeker, maybe? Nada.
It's a tie between Bill Haas and Keegan Bradley.
Haas racked up another top 10 in Houston last week, his fifth in eight stroke play tournaments in 2013. He doesn't have a win yet, but with the way he's playing, you have to think that's coming soon too.
This isn't exactly Haas' first rodeo, but he's playing better than he's ever played in his career. Consider his top 10 finishes in previous years (total for these years):
2012 - 3
2011 - 7
2010 - 4
2009 - 4
2008 - 2
2007 - 3
2006 - 1
He's already exceeded all but one of those years with his five top 10s this year.
Haas is doing it with his iron play too. He hasn't been very good off the tee (98th in total driving) and he's been decent with the putter (55th in strokes gained) but his approach shots have been wicked -- Haas ranks behind only Steve Stricker and Henrik Stenson in greens in regulation percentage.
He's played well at vastly different courses too: T9 at Torrey Pines, T3 at Riviera, and T10 in Houston tell that story quite well.
After his third round at the Houston Open when he shared the lead, Haas told the media: "Being up there near the lead, you maybe don't sleep as much tonight because you're thinking about it and excited and anxious and want to do well."
If that's the case, Haas probably hasn't been sleeping much all year.
Here's the rest of our power rankings.
2013 PGA Tour Power Rankings
| | | |
| --- | --- | --- |
| 1 | | A win at Augusta next week and he can pretty much lock up this spot through the summer. He's a 66-1 favorite to win all four majors this year. |
| 2 | | Has picked his spots this year but zero rounds on the PGA Tour over 72 mean three top 10 finishes and the No. 2 spot on our list. |
| 3 | | Has two top 10s on the PGA Tour and two top fives in Europe. Will be a favorite at Augusta for years to come. |
| 4 | | Quietest good season on Tour so far this year. Hasn't played since Doral but has three top 10s and hasn't been outside the top 25 in five total events. |
| 5 | | Stumbled a bit in Houston (for him) but body of work (three top fives) still merits a spot in our top 10. |
| 6 | | Finished T27 at the Masters last year. I bet he's in the top 10 at Augusta this year. |
| 7 | | Five total events in the U.S., three top nines. We won't see him again until the Masters but I bet we see a lot of him that weekend. |
| 8 | | A nagging neck injury had been reportedly bothering him but he said it wasn't even worth mentioning in Houston last week. Five top 10s will make a lot of injuries disappear. |
| 9 | | A shame he's not in the field at Augusta. Four top fives and only one missed cut in nine events mean he's playing some of the best golf on Tour. Surprised he's not in the field at the Texas Open to try and get a win and get in the Masters. |
| 10 | | His finishes are as volatile as he is. He's won, he's finished T3, he's been cut, he's finished in the 60s. I have no idea what to do with him. He doesn't either. |