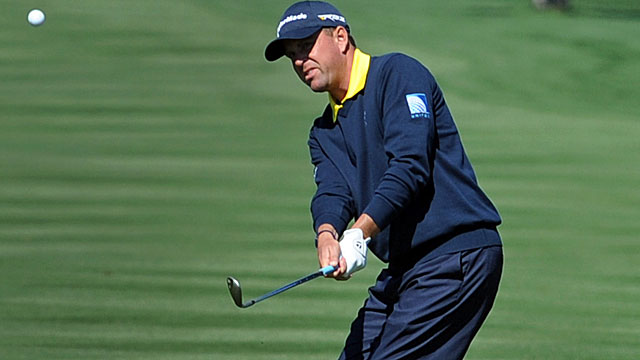 SAN ANTONIO -- Matt Bettencourt has spent the last year searching for answers to his severe asthma problem.
The journeyman PGA golfer finally found the answer last week in the form of the right combination of medication.
His comfort showed on the golf course Thursday as he shot a 5-under par 67 to earn a share of the lead with Peter Tomasulo after the first round of the Texas Open, holding off a field that includes Rory McIlroy.
PGA Tour
More Golf coverage
Without the jitters and shakes he's become so accustomed to, Bettencourt needed only 25 putts to lead a group of four players - including former British Open and PGA Championship winner Padraig Harrington -- at 4 under.
McIlroy, who entered the tournament as a final opportunity to prepare for next week's Masters, opened with a 72 and is tied for 45th.
Bettencourt only made the tournament as an alternate after Henrik Stenson withdrew.
He received a two-year exemption on the PGA Tour after winning the Reno-Tahoe Open in 2010, but it ended at the end of last season. He had bounced between the PGA and Web.com tours this season, making only one cut in five events.
Bettencourt didn't play like a journeyman on Thursday, crediting his recent medication change that followed a hospital stay and detailed tests last October after a bout with pneumonia. His lone bogey came on No. 4, and he took the lead from Harrington with a birdie on No. 17.
"My game hasn't been the concern," said the 37-year-old Bettencourt, who's just 183rd on this year's money list. "I've gone back and forth from three to four different inhalers and some different medications, which has helped my health, but I haven't been able to play golf with it at all."
Tomasulo, meanwhile, looked anything but a player fighting to keep his tour card -- taking advantage of warmer and calmer afternoon conditions while playing in the final pairing of the day.
He posted the only bogey-free round of the day while playing in his sixth PGA tournament of the year.
Tomasulo entered the year with the opportunity to play in eight events, thanks to a medical exemption following a rib injury two years ago, and he closed with a 10-foot birdie on the par-5 18th to earn a share of the lead - and come one step closer to securing his tour card.
"I just played a solid round of golf to go around here with no bogeys," Tomasulo said. "We got a good end of the draw, I think, with the weather calming down late in the day."
Harrington and Billy Horschel shared the lead following the morning tee times, battling chilly and windy conditions. They were joined by Bryce Molder and Harris English at 4 under in the afternoon.
Harrington, the former British Open and PGA Championship winner from Ireland, overcame the chilly temperatures to go as low as 5 under before finishing with a bogey on No. 18. He began his day with four layers of clothing to stay warm as the Texas winds whipped in from the north.
"Last week back in Ireland, it was snowing, and I didn't feel as cold," Harrington said.
McIlroy, meanwhile, continued the up-and-down play that has plagued him throughout the year and cost him the No. 1 ranking to Tiger Woods. He was 2 under early in his round, which began on difficult No. 10, but he found the water on the par-5 18th when his approach came up short.
That began a stretch of three straight bogeys, and he missed a 7-foot par putt on No. 9 to fall back to even par.
"More mental than anything else," McIlroy said. "It's just about limiting those mistakes. It's definitely more mental mistakes than physical."
While McIlroy struggled, Horschel continued to show the form that led to a second-place finish at last week's Houston Open. He jumped from 60th to 24th on the money list following last week's performance, and he tied Harrington on Thursday with a final-hole birdie on No. 9.
Horschel had six birdies, including a stretch of four in five holes midway through the round, and he did so despite hitting only seven of 14 fairways. He and Harrington had just 25 putts each, while McIlroy needed 31.
"All in all, it's a good day," Horschel said. "I could hit the ball a little bit better, but I did a good job of managing it and making a couple putts."
Ten players, including Jim Furyk, are two shots back of the lead at 3 under.