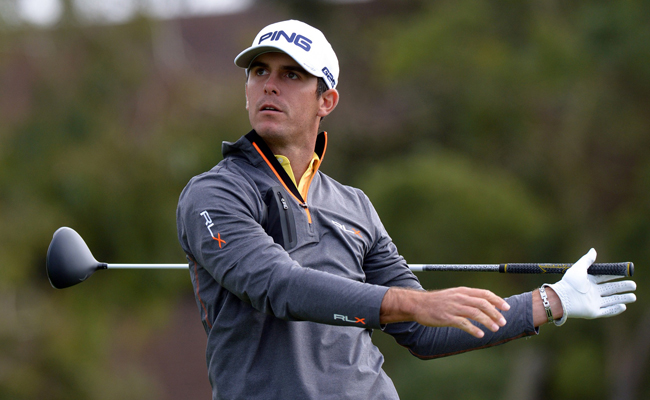 Billy Horschel hasn't finished outside the top 10 in a tournament since Florida Gulf Coast University dunking its way into the hearts of American sports fans. He hasn't missed a cut since before LeBron James won his first ring.
First things first -- Horschel should have been included in our power rankings last week for his T2-T3-T9 run at the Houston Open, Texas Open, and Heritage respectively. He wasn't superb early in the year though. He only had one top 10 before starting this crazy streak he's been on since Houston.
The even crazier streak might be that he's gone 23 straight PGA Tour events without missing a cut. Tiger Woods can't say that currently, neither can Phil Mickelson or Rory McIlroy or Adam Scott. In fact, no golfer in the world can say that right now.
Horschel understands winning on Tour is a process though. Here's what he said after his win in New Orleans:
"This is something that I've wanted since I've turned pro, and I've always felt I was good enough to win out here. I just felt I had to check every box. Some guys get out here and win right away and then they struggle."
The process has been financially beneficial too. Before Sunday's win at the Zurich Classic Horschel had already made $1.4 million in 2013. With the win he's now over $2.5 million and trails only Brandt Snedeker and Tiger Woods on the money list and in the FexEx Cup points race.
In a season that has been marked by first-time winners and stamped by a new generation of golfers, it's totally possible we overlooked Horschel as a future star. Maybe he's the Jason Dufner of 2013. Dufner, as you know, got his first career win in New Orleans last year and went on to win again and play for the Ryder Cup team.
And oh how I'm hoping for Horschel to make the 2014 Ryder Cup team if only so we might have another 2007 Walker Cup-like incident between him and McIlroy.
I think Horschel has a real chance to join that Webb Simpson/Dustin Johnson/Keegan Bradley group. He's 26, clearly gifted, and loves the game. What's the difference between him and Rickie Fowler (other than a bad wardrobe and lots of Instagram followers)?
He might not be a household name yet, but I'm banking on the fact that his win at the Zurich Classic will propel him to be so in the future.
Here's the rest of our power rankings.
2013 PGA Tour Power Rankings
| | | |
| --- | --- | --- |
| 1 | | Won't play again until THE PLAYERS but neither will Scott so little chance of being overtaken any time soon. |
| 2 | | He's been the antithesis of Bubba Watson in terms of a Masters winner. We've heard nary a peep from the suave Australian and he's skipping Quail Hollow as well to get ready for THE PLAYERS. |
| 3 | | Played pretty well in New Orleans (T15) which means he still hasn't finished outside the top 25 in his six PGA Tour tournaments this season. |
| 4 | | Joins Snedeker as the only other SEC golfer on our list. I think the gators in New Orleans were definitely a sign. |
| 5 | | Also skipping Quail Hollow though the Heritage champion might be tending to his restaurant instead of doing prep work for THE PLAYERS. |
| 6 | | Amazing he's had the year he's had without cracking the top 115 in either driving accuracy or greens in regulation percentage. Shows you how good he's been with the flat stick. |
| 7 | | 4th in FedEx Cup points and 4th on the money list. He'll try to defend his PLAYERS Championship next weekend at TPC Sawgrass. |
| 8 | | Definitely on the slide down after such a torrid start to the season. His Masters performance is buoying him for now but I want to see something the next two weekends. |
| 9 | | 5th on Tour in FedEx Cup points behind Woods, Snedeker, Horschel, and Matt Kuchar. The only golfer in our top 10 playing Quail Hollow this weekend. |
| 10 | | Get your sliding scale out for the man who never plays. He's the only golfer in the top 10 of the money list without a win. |