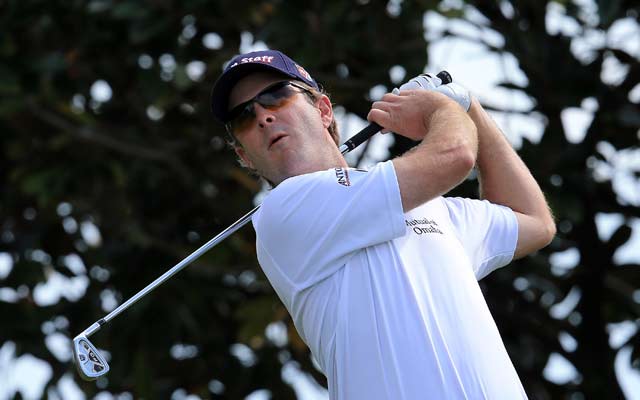 You know what Phil Mickelson, Rory McIlroy, Adam Scott, Webb Simpson, Graeme McDowell, Jason Day and Dustin Johnson have in common?
They all trail Kevin Streelman in the FedEx Cup points race. All also have fewer top-10 finishes than Streelman, who has finished in the top six at three straight tournaments and has four top-six finishes in his last six events, including a win.
Streelman is not a sexy name on tour -- he's a 34-year-old grinder -- but it's not yet June and he's already surpassed his career best in earnings this year by over $1 million.
The former Blue Devil has gotten it done in a variety of ways at a number of different tournaments, but his general formula has been greens in regulation (23rd on tour) plus strokes gained putting (20th), which equals the best scoring year of his career (5th).
There's not been a mini-tour Streelman hasn't graced with his presence. In fact, after his win at the Tampa Bay Championship earlier this year, Streelman said, "It wasn't too long ago I was in a car driving myself around, dead broke."
Just 10 years ago he was caddying at a private club in Arizona for rich folks (Phil Mickelson is a member), trying to make ends meet.
He's not broke anymore. In fact, he went on to become a member of that private club, and club champion at that. Streelman has made just over $2.5 million in the first five months of 2013 and having locked up his tour card for two more years with the win in Tampa.
But that win hasn't gone to his head. After missing the cut at Augusta, Streelman finished T3 at the Heritage, T6 at the Wells Fargo and T2 at the Players Championship after Sergio Garcia's last two holes did not go, um, swimmingly.
In that same interview after his win at Tampa, Streelman, speaking with resolve and a hint of nostalgia, told reporters the key to his success: "[K]eep chasing your dreams and you never know what'll happen."
Indeed. And this week, he makes the top five of my weekly Power Rankings. So, welcome to the club.
2013 PGA Tour Power Rankings
| | | |
| --- | --- | --- |
| 1 | | We're a US Open win away from getting that Player of the Year engraving tool heated up. |
| 2 | | Was good (not great) at the Players Championship. Scott has raised the bar for himself in winning the Masters, but I think he'll be able to keep clearing it. |
| 3 | | He's made more money in his last three tournaments ($1.26 million) than all but 28 other golfers on tour have made all year. |
| 4 | | Started out the year doing his best Tiger Woods impression with three top-two finishes in three straight events, then swooned because of an injury. Sneds is starting to get his groove back -- top 10s at two of his last three events, including at Augusta -- as we rumble towards Merion. |
| 5 | | I don't think I saw one shot Day hit at TPC Sawgrass and yet he finished inside the top 20. He's the biggest name nobody talks about on tour right now. And he still hasn't missed a cut all year. |
| 6 | | He's been up and down a little of late (cut at Arnold Palmer and Masters), but a second-place finish at the Heritage and top 15 at the Players mean he's streaking at the right time -- just in time to defend his US Open title. |
| 7 | | All we'll remember is the disaster at Nos. 17 and 18 last week, but Garcia now has four top-eight finishes in his last six events. The other two were a W/D and a T16 at the Wells Fargo Championship. He's on fire. |
| 8 | | We expect so much of him that it sometimes gets lost when he plays top-10 golf instead of title-winning golf. Truth is he has four top 10s in his last six events. When his putting comes around, look out. |
| 9 | | Had a weird week defending at the Players. Shot a 71-66 to get to the top of the leaderboard on Thursday and Friday, then went 75-76, including three double bogeys, for the weekend. |
| 10 | | Missed his first cut since May 2012 at the Players Championship last week. No matter, he still ranks in the top 10 in earnings and FedEx points and has cracked the top 50 of the world rankings. |