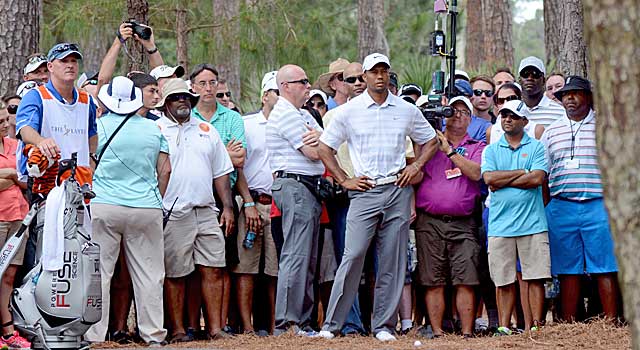 Two marshals who walked with Tiger Woods at the Players Championship are disputing claims to Sports Illustrated about the much-discussed Woods-Sergio Garcia incident during Saturday's third round, the Florida Times-Union reported.
On his second shot on the second hole, Garcia said he was distracted when Woods pulled a club from his bag, eliciting a response from the crowd. Woods claimed he was told by a marshal that Garcia, approximately 50 yards away and out of Woods' sight, had already hit his shot. TV replays indicated that the crowd noise came as Garcia stood over his ball, not during his backswing.
Two marshals, John North and Gary Anderson, told SI that Woods never questioned them about whether Garcia had hit his ball.
However, two more marshals -- Brian Nedrich and Lance Packowski -- said they were 10-12 yards away from Woods, the Times-Union reported. Both men said claims that there was no communication with Woods were wrong, adding that Woods was only mistaken about the sequence of events.
"It is not true and definitely unfair to Tiger," Nedrich, a marshal at the second hole, said in the Times-Union. "That's because I was the one Tiger heard say that Sergio had hit."
Paczkowski, Nedrich and several other marshals walked all 18 holes with Woods all 18 holes, the Times-Union reports. Paczkowski said he even asked Woods if he needed any more fans moved.
The claim that Woods didn't ask marshals whether Garcia had hit or not also is misleading because Woods never said he asked for help — only that he was told Garcia had hit.
Nedrich said he only got a glimpse of Garcia swinging, then saw the ball in the air. When fans behind Woods began to stir, Paczkowski, his view of Garcia blocked by bushes, tried to quiet them and said, "the other player [Garcia] hasn't hit yet," the Times-Union reported.
"That's when I yelled back at Lance, 'No ... he's already hit,' " Nedrich said in the paper. "Tiger had already taken his club, but we did tell him that Sergio had hit."
Nedrich told the Times-Union that he didn't blame Woods for being mistaken about the sequence of events. Paczkowski told the paper that accounts based on the SI story questioning Woods' integrity were misleading.
"Tiger Woods did not lie," Paczkowski said. "Was there a small mistake in what he remembered? Yes. But I don't think it rises to the level of lying."
In a statement, Woods agent Mark Steinberg said: "The comments from the marshals in today's [Times-Union] story definitively show that Tiger was telling the truth about being told Sergio had hit. I hope this demonstrates to some reporters the importance of accuracy and not jumping to misplace conclusions."
The paper reported that the PGA Tour had no comment.