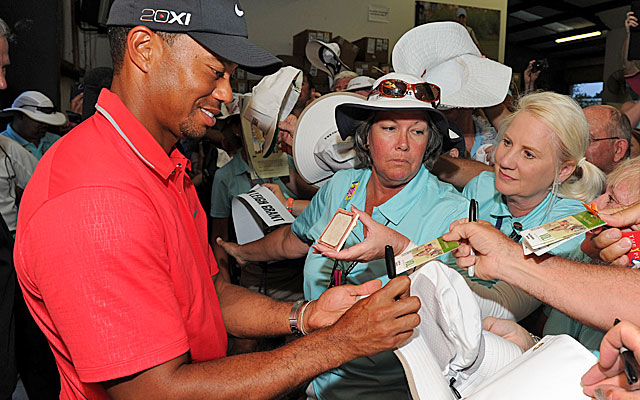 Nike was right. Tiger Woods was right. Winning really does take care of everything.
And maybe it should. Maybe that's the lesson here, and a good lesson for all the hand-wringers and tsk-tskers -- that Tiger Woods and any athlete like him is just that, an athlete. Not a role model, not a public personality to be taken seriously beyond the confines of sports. What Tiger Woods does in his down time is between him and those in his private circle, so kindly butt out. Just remember to turn on the TV when he's playing, and remember to clap when he's playing well, and remember to forget about the Perkins waitress when he's winning four tournaments in seven attempts.
That's the lesson, and I like the lesson. Athletes and entertainers, politicians too, get way too much credit. Not too much attention; there's a difference here, so understand it. It's fun to pay attention to a great athlete (or entertainer) at the prime of his or her powers.
More on Tiger Woods
Columns

Related links
More Golf coverage
But to pay so much attention to randy Tiger or loony Tom Cruise (or whoever) that we bequeath them imaginary powers they neither have nor deserve, the power to raise our children and influence our society, is ridiculous. As if an athlete like Tiger or an actor like Tom Cruise -- with money and talent most of us cannot even comprehend -- is someone to emulate. Sure, emulate Tiger or Tom. Minus the talent and money. What's left, after the talent and money? The human stuff. The foibles. Why would you want to emulate that?
Tiger sleeps with women who aren't his wife. Tom Cruise follows a religion that's downright spooky. The world will survive. If you're worried about the kids -- think of the kids! -- try being a better parent. Spend some time with your kid. Do it this weekend, because what else is there to do?
Tiger isn't playing.
We're back, and I mean all the way back, to dividing the PGA Tour into two groups: events with Tiger, and events without Tiger. Events without Tiger don't matter. They're not majors -- when he's healthy, he doesn't miss majors -- and since they're not a major and since he isn't playing, it's almost like it didn't happen. This weekend the HP Byron Nelson Championship is the tree falling in the empty forest. No sound. No Tiger. Nobody cares.
We're back, see. We're all the way back. And some of you -- not all of you; you know who you are -- are back in the most irritating way possible: You're riding the Tiger bandwagon so hard that you literally can't see anything else.
Tiger and Sergio have a spat? Sergio's fault. Why? Two reasons. One, we don't like Sergio. Two, it's Tiger. And since we've moved past our "we hate Tiger phase" and back into "we love Tiger" mode, Tiger's right. He's always right.
Tiger makes a bad drop at the Masters, and you tell us to leave him alone, Mr. Media Man. He's Tiger and you're not. You're jealous.
Tiger probably makes another bad drop Sunday at the Tournament Players Championship -- lamely agreeing with his playing partner, the intimidated Casey Wittenberg, that his shot actually carried the water hazard 250 yards away before curling into the same damn pond ... and you leave him alone, Mr. Media Man! He's Tiger. You're not. Casey Wittenberg, whoever that is, said his drop was OK. And the Tour said his drop was OK. And we say his drop was OK, because he's Tiger -- and now that we love him again, everything Tiger does is OK.
And you thought Tiger was shallow?
In January, Tiger Woods was one of the three most disliked athletes in the country.
Then he started to win.
He won the Farmers Insurance Open on Jan. 28. He won the Cadillac on March 10, then the Arnold Palmer on March 25, and now the TPC. That's four wins in the last seven tournaments he has appeared in. He is No. 1 in the world, and he is No. 1 by a large margin.
He's back -- and so are you. You tuned into the final round of the TPC like you hadn't tuned into that tournament in decades. The TV audience of 7.6 million was the most viewers for a TPC round in more than 20 years. Not counting the four majors, it drew the highest TV rating for any round, at any event, in six years.
Remember when people were put out by that Nike slogan, the one that celebrated Woods' return to the world's No. 1 ranking by showing a picture of Tiger lining up a putt underneath the words "winning takes care of everything"?
Yeah, that was cute.
That was correct, too.