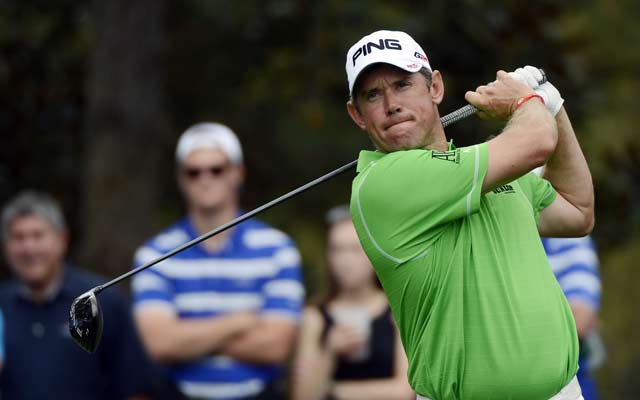 Lee Westwood has been one of the more underappreciated stars in golf in recent memory. The man has won 22 times on the European Tour and 39 times overall worldwide as a professional.
He's won only twice on the PGA Tour, though, which may explain the insufficient appreciation.
That stat -- and Westwood's potentially unfair label of not being able to close tournaments in the U.S. -- has been exemplified perfectly this season. Westwood has five top-10 finishes already (including one at Augusta), but no top-5s, and nothing that resembled anything close to contending for a win on a Sunday.
In fact, he has four straight top-10s on the PGA Tour dating to the Houston Open at the end of March. Throw in his T9 at the BMW PGA Championship last week on the European Tour and you have what might be the second-hottest golfer in the world as we head toward the U.S. Open in two weeks.
But we live in a world that's all about winning. So when Westwood fails to close out a tournament, as he did last weekend at the BMW PGA Championship, we're reminded of his one shortcoming amid a massive pile of talent: closing.
Westwood told Sports Illustrated after his finish at the BMW PGA Championship last weekend it frustrates him to not be able to finish well at the end of tournaments.
"I had a sniff at winning," Westwood said. "So it's not all bad. But, you know, it's the sort of thing where I feel like if I was hitting it well, I should be winning a few tournaments, really."
Even he knows he should be winning more than he does. But that doesn't take away from the fact that half of his PGA Tour events this season have ended with top-10 finishes.
This was the plan all along. Start strong and keep the momentum for all of 2013. At the end of last year, Westwood moved to Florida to focus more on majors and coming out of the gate hot.
"I've been looking to move for a couple of years. Just getting frustrated with the weather in the winters in England, not being able to work as hard as I would like, coming out at the start of the year really feeling too rusty," he told ESPN recently.
It's worked for the most part so far this year: Westwood is tied for third on tour in top-10 finishes. Now he just needs that elusive win.
2013 PGA Tour Power Rankings
| | | |
| --- | --- | --- |
| 1 | | We're at the point where we wonder not whether Woods will win but who he will beat and by how many strokes. |
| 2 | | Great stat pointed out by Jason Sobel of Golf Channel last week: Scott has played in four non-WGC PGA Tour events this year. Guan Tianlang is playing his fourth this weekend at the Memorial. |
| 3 | | Kind of says it all that Westwood is tied for third in top-10 finishes but 31st on the money list. |
| 4 | | Snedeker finally found what was ailing him; will that weight off his shoulders propel him to new heights? |
| 5 | | Strong Texas swing for Kuchar (T33 and second). He's due for a major this year, and I wouldn't be surprised to see it come at Merion. |
| 6 | | Only a cut at the Crowne Plaza Invitational sullies what has been a pristine May for Streelman. He finished up April with a T3 at the Heritage then went T6 and T2 before falling off last weekend. |
| 7 | | Maybe getting cut at Augusta was good for him. Simpson has won nearly $1 million since the Masters. |
| 8 | | Bad showing in England for the BMW PGA Championship but a good outing at the Players keeps him in the top 10. McIlroy has historically played well at the Memorial so I expect his stock to rise this time next week. |
| 9 | | Lost amid all the chicken-fried hoopla is the fact that Garcia is having a really good year. Other than a W/D at Bay Hill Garcia hasn't finished outside the top 16 at a PGA Tour stroke play event all year. |
| 10 | | Finally won then ... stopped playing. Only outing since winning New Orleans at the end of April was a cut at the Players Championship. |