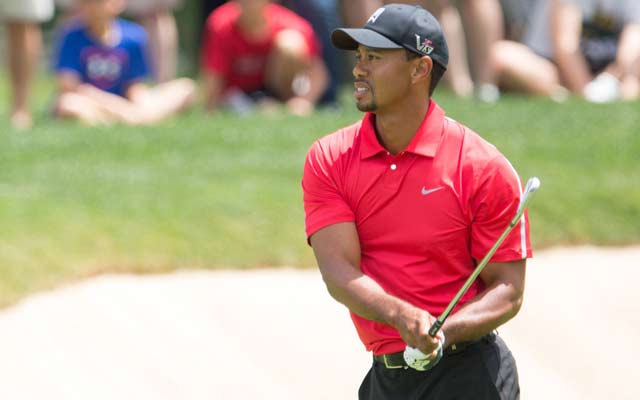 It's was a difficult statistic to find. I searched the PGA Tour media guide and came up empty, surfed around on the web a little and still nothing. Then, thankfully, the tour tweeted the info I'd been looking for:
The two multiple winners on tour this season, Tiger Woods and Matt Kuchar, are the fewest through the first week of July since 1994, when Nick Price had collected three PGA trophies.
So it's been nearly 20 years since we've seen this kind of parity.
Now maybe that's a function of randomness -- example: if Phil Mickelson hangs on at Merion, then we aren't having this conversation.
But he didn't hang on at Merion and we are having this conversation. So maybe it's not a function of randomness and actually a function of the fact that the tour is as strong at the top and through the middle as it's ever been.
We've had 10 first-time winners so far this year, which is far more than we've seen in recent years. Here's a look at how many first-time winners the PGA Tour has seen through this point in the season in the last 10 years:
2013 -- 10
2012 -- 6
2011 -- 8
2010 -- 9
2009 -- 3
2008 -- 6
2007 -- 8
2006 -- 7
2005 -- 6
2004 -- 4
To me, this speaks more to what the guys at the top (Woods, Kuchar, Rose and Scott) are doing than it does to a watered-down tour. It gives even more weight to majors, where so many elite golfers in their absolute primes are vying for titles.
It means, as we saw at the US Open, stars are fighting off not only other stars but young upstarts (Billy Horschel), career grinders (Charley Hoffman), and no-names (Gonzalo Fernandez-Castano) that you really should know.
Every major is a bloodbath because of the even footing everyone is playing on.
Some of the parity is due to superstars sitting out more tournaments, for sure, and probably some of it has to do with the fact that most golf equipment is pretty equal. Even more has to do, though, with the fact that the younger golfers thinks they're as good as your Phil Mickelsons and Tiger Woodses. They aren't intimidated; they just go out and play golf.
With that we look at 10 guys who are holding the masses at bay and performing like the 10 best golfers in the world right now.
2013 PGA Tour Power Rankings
| | | |
| --- | --- | --- |
| 1 | | Four wins, nine starts -- with all the info I just gave you about parity and a Tour that has seen more first-time winners this year than in any of the last 10 are you still going to tell me he's not "back"? C'mon, man. |
| 2 | | I'm impressed that he won the US Open, yes, but I'm even more impressed that he had a shot at winning the Travelers Championship the week after. Mentally, that might be an even more absurd feat. Seems like a good place to note that I would have been on an island somewhere, sipping champagne from the US Open trophy. |
| 3 | | At the peak of his golfing powers right now. The U.S. Open would mean so much to him, especially because of everything that happened during his amateur experience. Rose to No. 4 in the world after win at Memorial -- his highest ranking ever. |
| 4 | | His two best finishes of the year came at the Masters (third) and the US Open (T2). I'm picking him to win the British Open. |
| 5 | | Just two top 20s since he won the Masters but, well, he won the Masters. He's been falling on this list of late but a top 10 at the British Open can solidify his spot here for another month or so. |
| 6 | | His last eight tournaments worldwide: five missed cuts, three wins. Would be higher but one of those wins was the week after the Masters (weaker field), one was the French Open (weak field), and one was at the European match play event (I'm not a huge fan of match play wins). |
| 7 | | Finished T4 at the Memorial, won the AT&T National, finished T9 at the Greenbrier Classic, made $1.5 million. Not a bad month. |
| 8 | | It makes sense that one of the most emotional players on Tour ranks second in birdie average (4.27 per round -- trails only Phil Mickelson but has also played 20 more rounds). Horschel has a chance to be a superstar with the personality he brings with him, I'm intrigued to see if he takes advantage of it in the next five years. |
| 9 | | Third in all-around ranking (behind Woods and Rose) and had a sneaky T17 finish at the US Open. He has to be excited about the run we've had on "32-year-old major winners ranked in the top 10" because, if form holds, he's next. |
| 10 | | I love Mickelson. Third at Wells Fargo, cut at the Players, second at St. Jude and the US Open, and cut at the Greenbrier Classic. He's like Graham McDowell but without the wins. |