Crazy eight: How Charl Schwartzel won the wildest Masters finish ever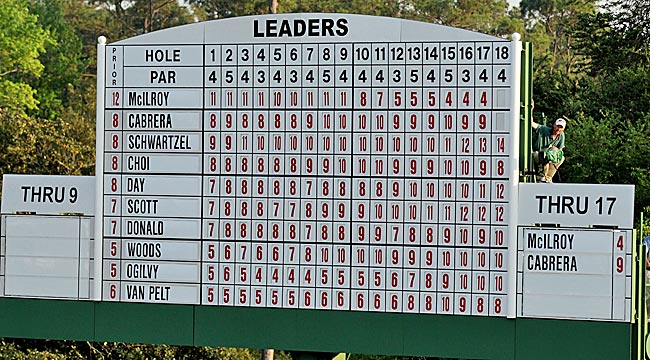 When the numbers stopped spinning, eight players had been in or shared the Sunday lead. (Getty Images)
AUGUSTA, Ga. -- Ah, first-timers.
Forgive Jason Day if his head was spinning, his memory in knots and recall a bit spotty as he tried to detail the inexplicable.
Last year represented his inaugural Masters, and with the cacophony of noise all around, as Augusta National's manual scoreboard operators swapped numbers like they were dealing cards, Day was swept up like a leaf in a tornado.
Only 23 at the time, Day was a part of the wildest back nine in tournament history, when players from every habitable continent were represented atop the leaderboard, excepting the ice caps populated by penguins.
Twelve months later, Day is still talking a mile a minute about the experience, though what he offers in alacrity is lacking in clarity. Hey, he's not alone. It looked more like that other Southern circuit, the Kentucky Derby.
"Totally unbelievable," Day gushed. "I was very, very lucky to have been a part of that tournament with how it all turned out over those last crazy nine holes, with six guys tied for the lead and ...."
Park it right there, mate.
Actually, eight players held at least a share of the lead on the most frenetic, frantic two hours in televised Masters history. Some might prefer the heart-warming ride of 1986, when Jack Nicklaus won at age 46, or his hard-fought win in 1975, when he danced across the 16th green and outlasted charges from rivals Tom Weiskopf and Johnny Miller.
But 2011 offered a depth charge unlike no previous Masters. Many times, majors feature a predictable ebb and flow, but this was more akin to a flash flood in Rae's Creek.
"It was awesome," ESPN analyst Paul Azinger said. "My palms were sweating. It just became so compelling. I need to watch it again. What an event."
Even a year later, after watching the replay of the entire final round, tracking the sequence of events, the jockeying and jousting, is nigh on impossible. Small wonder network analyst David Feherty called it a "cavalry charge."
The bugle sounded as soon as 54-hole leader Rory McIlroy, who started the day with a four-stroke lead, teed off and three-putted the first hole from the fringe. By the time the Irishman finished the second hole, he was tied for the lead with eventual winner Charl Schwartzel, the first of the magnificent seven who would claim at least a piece of the lead as young McIlroy, 21, wobbled, then tumbled.
Before the most chaotic Sunday in tournament annals was complete, Tiger Woods, Adam Scott, Angel Cabrera, K.J. Choi, Day and Geoff Ogilvy would climb to the top before Schwartzel nailed it down with four emphatic, closing birdies to claim the green jacket.
Ogilvy, who won the 2006 U.S. Open title by dodging some fairly conspicuous body bags on the last hole, says he has never been part of such a tumultuous day.
"Normally, it's two guys, maybe three," Ogilvy said.
Who can track nearly treble that total? It was dizzying, if not intoxicating, for all parties, inside and outside the ropes.
"It was just out there, up for grabs," Day laughed. "If you wanted to go out there and win, like Schwartzel did, it was there. The great thing was, it was like nobody backed down."
Mostly, they bucked up. Which isn't to suggest the guys who came close wouldn't love a do-over here or there.
With the cheers bouncing all around the hilly property like echoes, and the manual scoreboards occasionally tardy posting the scores of the leaders -- which are not necessarily listed in ranking order as with television -- players tried to take stock of their status by tracking the roars.
"I'd certainly been in a lot of majors where I was listening to what was happening -- a long way behind me," cracked Scott, who was in the third-to-last twosome. "This was in front of me, behind me, all around me."
What a happy delirium. Even after watching the entire final-round replay, an outright chronology of events remains practically impossible given the simultaneous shots being executed by the eight-man octopus of a leaderboard.
By way of example, when Ogilvy birdied the 16th hole, his fifth birdie in succession, he moved into a five-way tie for the lead. Wherein the Masters is traditionally like watching a ballet, this was like trying to describe a mosh pit -- with far too many sweaty, moving parts.
Instead, mainly in their own words -- be it translated from Korean, Spanish or accented English -- here's where it went right and how it went wrong for crazy eight on the most entertaining Sunday since the tournament began in 1934.
That same year, coincidentally or not, Alcatraz became a prison. This tournament felt like a jailbreak.
"Historic," Day said.
Well said, especially for an event rookie.
Next: Charl Schwartzel