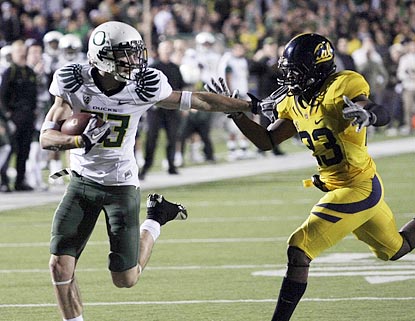 Jeff Maehl may be the key player in this years BCS National Title Game.
The Big Ten's pathetic New Year's day showing certainly hurts the conference's rep. Yes, the SEC is king. But let me state that Bowl Games are Bowl Games, a crapshoot frankly, most of the time. A lot of it is based upon motivation. Look at the Washington/Nebraska game. Washington was motivated, Nebraska was not - Washington won, after losing by 35 the first time around. The Big Ten should be very good next year with Ohio State, Nebraska, Northwestern, Michigan State, and Wisconsin all slated to start next year in the preseason top twenty five (probably). Michigan State getting housed was something everyone saw coming - they were a 7-5 team that kinda lucked their way to 11-1, while Iowa was a 10 win team that got screwed into a 7-5 year. Alabama is the best team in the SEC, they just didn't perform on the field when it mattered. Tough tough day to be a fan of any team in the Big Ten.
------------------
Philly/Green Bay is the best matchup on Wildcard weekend, without a doubt. The key battle in that game will be Clay Matthews III against Philly's pro bowl left tackle Jason Peters. The Eagles were at their best running behind Peters (4.83 ypc) and Peters only allowed 2 sacks the entire year. Granted he won't be protecting Vick's blindside, but he will be key to stopping likely DPOY Matthews III 13 sacks, 24 QB Hits, and 18 TFL are outstanding numbers. He is disruptive and it will be key for him to keep contain and not to allow Vick to escape the pocket in this game. On the other side of the ball I want to see how an Eagles defense that was middle of the pack against the pass handles Aaron Rodgers and that passing offense. I expect a great game, and watch out for Brent Celek to have a big game here. The Packers have really struggled against tight ends this year, and though the first time the two met didn't have a great game, I expect him to be key in this shootout.
------------------
Player to watch in the National Title Game is Jeff Maehl, wideout for Oregon. Not a great athlete, but smooth player with good hands who knows how to find openings in the defense. Auburn's secondary has been toasted by great wideouts all year. Greg Childs, A.J. Green and Julio Jones all had at least 9 catches, 154 yards and a score against Auburn. If Oregon wants to win this game they need to keep Auburn's back four deep - to provide space for the zone read game that Oregon loves. The best way to do this is to stretch the field with the pass, and Jeff Maehl is the guy who can do that. I also feel like Oregon has a chance because their east-west running style kind of neutralizes Nick Fairley. Fairly loves to work upfield, and will get penetration. But the up-tempo, wide running style that Oregon uses should keep Fairley in check somewhat. Should be a great, great game.
------------------
Peter King reported that Andrew Luck will likely stay in school. If Jim Harbaugh leaves Stanford (likely for Michigan) I can't see Luck staying. But if he does I have no doubt that Carolina will be devastated. Cam Newton is a possibility at number one, though I'd be shocked if he goes there. The pick is probably Nick Fairley or A.J. Green. The Panthers have Charles Johnson (double digit sack year) and a high potential player in Greg Hardy at end. But in the middle they lack playmakers. Fairley brings that to the table - he's not a Suh quality prospect but is on par with the likes of Glenn Dorsey and Gerald McCoy. Luck coming out he's obviously number one - top QB prospect to come out since Michael Vick.
------------------
Julius Peppers is my defensive player of the year, with regards to Brian Urlacher, James Harrison, Troy Polamalu and Clay Matthews III. Peppers was a complete player this year, good against the run and an impact player in the pass game. The numbers aren't overpowering: 54 tackles, 16 QB pressures, 14 tackles for loss, 8 sacks, 18 QB hits, 3 forced fumbles, 9 passes defended and 2 picks. But looking at the entire picture right there - the complete player that he was, all that he did and how he improved the Bears defense to me he is the pick. Harrison might have been the best statistically, Matthews the most explosive, Urlacher the best leader, and Polamalu the most valuable. But Peppers was the best overall defensive player if its up to me. The rest of the awards are obvious aside from COY, for which there are a plethora of deserving candidates.
------------------
The most forgotten about rule that will now be talked about - the new overtime playoff rule. Cliff-Notes version of the rules. Team that gets the ball first scores a TD, they win. Team that gets the ball first gets a FG, not over. Other team has one chance to answer, if the score a TD they win. If the team that gets the ball first doesn't score it's sudden death again just like it used to be. I feel like at least one wildcard game will go into overtime and this rule will either be absolutely loved or despised. Interested to find out what happens.