How long does Bo Pelini have? No, I don't think he should lose his job, I don't even think his seat is remotely warm right now. The man is sitting comfortable with a 12-4 all time Head Coaching record at Nebraska, but my question isn't about this season, maybe not even next season. But in four or five years if Nebraska is still fighting for relevence. What then?
Pelini has the program headed in the right direction: 9-4 in his first year. And he is in good company with coaches like Bob Devaney, Tom Osborne and Frank Solich as the only coaches that started with a 9 win season. So... So far so good right?
I think so, but many others are not convinced. Nebraska still hasn't beaten a ranked team since a 28-27 win on the road at Texas A&M (Remember a last second fade route to Maurice Purify to spring to a 28-27 shocker over the Aggies?) But beating a top fifteen team... that would take some serious research.
Nebraska has delved into a recent pit of mediocrity and with the help Bo looks like they are climbing out. But being ranked 18th in the nation isn't what Husker fans want, nor what most (born before 1990) are expecting. Nebraska needs to be in the national spotlight, a team of relevence and of consiquence. The stuff that makes the talking heads scratch their heads and say..."Nebraska is back?"
In fact go all the way back to 2001 and that is the last time Nebraska beat a top fifteen team and go back even further than that to 1997 and that is the last time Nebraska beat a top 20 team on the road! (#3 Washington). They have had their chances, a Cotton bowl against Auburn (L) an overtime with a good Texas Tech team last season (L) and both of those games should have been Ws but the fact is GREAT teams pull out the wins, GOOD teams come close to getting wins.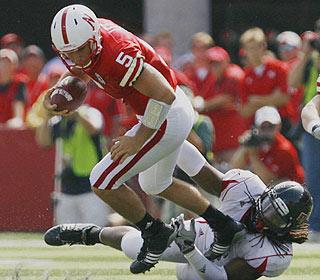 That's what makes this weekend's game against Virginia Tech the most important game of Pelini's relativley short career. At least up until now. Sure the Gator Bowl was important, but a win against a team like Tech in Blacksburg shouts, WE'RE BAAAAAACK louder than a win over a washed up Clemson team any day of the week. So can the Husker's do it? Well, call me a homer but all the evidence points to YES they can, and they NEED to. It looks like they finally have the Quaterback with the NFL measurables (6'2" 215 pounds) and the arm to make teams secondaries shake in their boots. Add speed on the edges with Curenski Gillyelin and Niles Paul, and physical toughness with guys like Mike McNeill and Menelik Holt and then top it off with an elite running back like Roy Helu Jr. you have a team that could be BCS worthy.
COULD
.
The Problem is the Huskers don't have that marquee win, the win that turns heads and makes other teams nervous. It isn't enough to say we played "well" against Texes Tech we need that key win. Could it be Oklahoma? Yes, but before it is Oklahoma it needs to be Virginia Tech and all the things that point to the win are there. The issue is the talent needs to be controlled, and it can be, but will Blacksburg get to the new starters? Will the Defense shake underneath the weight of expectations and will Bo be able to harness the legs of Tyrod Taylor and rely on the legs of Roy Helu?
It all remains to be seen, but before Dominance comes relevence and before relevence comes a game against Virginia Tech. Win this one and you still have to rattle off plenty more wins in the season, but you will have that monkey off your back and can continue to RISE to DOMINANCE!