Numerical order: Mock drafting by the numbers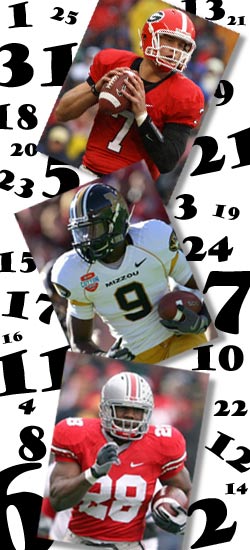 Even the best mock drafts miss on six or seven players in the first round. An author who accurately projects eight players to the correct team in the first round deserves praise for his work.

That makes studying trends and using history a good way to take some of the "over-thinking" out of the mock draft equation.

The mock draft below is based on how the past 15 drafts unfolded. To place players in each slot, the first, second (also known as the median) or third quartile slot values for each position-rank combination (quarterback being No. 1, tight end No. 3, etc.) were used, with the average value used as a tiebreaker. The strength of the 2009 class at each position determined the quartile values used.

Using statistics to determine a mock will lead to some very unlikely scenarios, especially when a certain position group is considered strong or weak. This year, the offensive tackle class is strong (although eight won't go in the first round like last year) so the math puts players like Andre Smith and Michael Oher too far down the board. The 2009 safety class is a bit weak at the top (unless you rate Malcolm Jenkins as a free safety) so it's unlikely one will be picked in the late first round, as is typical.

By the same token, using math will point to some players who might not go as high (or as low) as people expect. Some mock drafts had tackles Ryan Clady, Chris Williams and/or Brendan Albert going in the top 10, but none made it. A similar situation could happen this year. Not everyone had Darren McFadden going to Oakland at No. 4 in 2008, but historically it made sense. The same appears to apply to Chris "Beanie" Wells, as he could sneak into the top 10 despite being picked by most mock draft authors to go in the 14-16 area.
(Chad Reuter is a senior analyst for NFLDraftScout.com.)