Setting stage for draft swap meet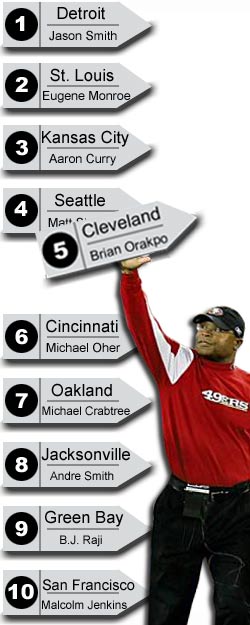 NEW YORK -- The flurry of activity on the first day of the NFL Draft last year included 11 trades involving first- or second-round picks, and there could be at least that many this Saturday.

Last year's figure didn't even include the trades of top 64 picks for veteran players. We've already had two such deals this year, with Chicago including its first-round pick in the deal with Denver for quarterback Jay Cutler and the Eagles shipping several picks, including No. 28 overall, to Buffalo for left tackle Jason Peters.

A Cleveland quarterback (Derek Anderson or Brady Quinn) and various pass-catchers such as Anquan Boldin, Braylon Edwards, Tony Gonzalez and/or Chad Ocho Cinco could all be moved on or before Saturday for one or two first-day picks, as well as a second-day pick or possibly a player.

Buffalo, Denver and Detroit figure to be the biggest players in the first round because each team has two selections. The Patriots own six of the top 97 picks, so they could also make a move or two on Saturday.

Teams are leaking to the media that they want out of the top 10 because of the multi-million guaranteed bonuses awarded to those players. The price for those initial selections could decline, however, based on teams' desire to move a bit down the board (but not too far down, as to miss out on the top prospects).

Despite the bellyaching, there is enough interest in Southern California quarterback Mark Sanchez that a trade into the top 10 could very well happen. At least one trade within the top 10 is also likely, with Sanchez, wide receiver Michael Crabtree, linebacker Aaron Curry, offensive tackle Eugene Monroe or defensive tackle B.J. Raji the focus of any potential deal.

Here are 25 pick swaps to watch for on the draft's first day. An NFL team's trade value chart was used to make sure appropriate picks were involved in each scenario.
(Chad Reuter is a senior analyst for NFLDraftScout.com.)