Jordan Hill: 6-10, 235 PF/C, Jr. (University of Arizona)

Draft Rank: #13

PF Rank: #3

Strengths:
Energetic big man. Very wiry body that allows him to attack the rim and grab rebounds. Has great athleticism for a big guy. Has really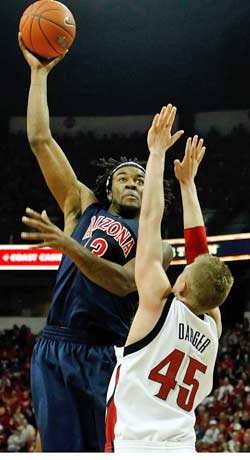 improved his game over the years and now has the ability to dominate a game. Has the size and strength to be an effective four. Attacks the rim with both hands and finishes with a lot of power. Has a very soft touch on his jump shot. Releases his shot high up, which makes it very hard to defend. Has a nice fadeaway jump shot when working from the post. Does a great job of sealing his man down by the rim and forcing his defenders to gamble or stay on his backside. Runs the floor well for a big man. Very good shooter on the baseline when he squares up to the rim.
Weaknesses:
Really doesn't have a lot of offensive moves in the post. Needs to develop a drop step and a jump hook with his back to the basket. Needs to bulk up a bit. Can become robotic with his moves down low. Should be a more consistent dominant presence down low. He has to improve his foul shooting. Turns the ball over to much for a big man. Has to get stronger in the paint and get more lift from his lower body. His footwork is also a question mark. Needs to improve fundamentals on both ends of the floor. General basketball IQ.
Mental:
Often loses his focus on the court. Doesn't always understand he can really give his teammates a boost if he finds them and gets them open looks. One thing I really like about Hill is that he took his time in college to improve his game. He struggled early in his career, but he worked on his game to the point where he was a force this year. I also worry about his understanding of the game (basketball IQ). He often doesn't help his teammates on defense and struggles to understand what his team needs to win.
Comparison: Antonio Davis, 6-9, 245, PF/C

Would be a good fit for: Memphis Grizzlies, Milwaukee Bucks, or Detroit Pistons.

Conclusion:

I know that a lot of other people have Hill higher than this, but he didn't overly impress me this year. He definitely has legit size and a frame that will fill out. My main concern is how he will be able to do with the big boys down low at the next level. I think he will really struggle in the post as he doesn't appear to have dominant post moves. I also worry about his defense at the next level.

I think he will be a nice backup that will come in and give his team pick and pop scoring. His shooting stroke is very fluid and I could see him scoring in a variety of ways using his jumpshot. His footwork and ball moves appear to be too robotic to be successful at the next level. You really have to value your possessions in the NBA, and I don't think he is talented enough to get the amount of touches that he did in college.

At the end of the day he will add value to a team that's looking for a big man who can score. He can give you minutes at the four or the five and if he brings more effort on the floor he could really be a factor in the paint. He will most certainly go higher than 12 in the draft as teams always overvalue size. Look for him to be a solid big man at the next level. Don't look for him to put up similar numbers as he did in college when his team ran the offense through him. But as I said, he should be a solid backup big.