1. L.A. Clippers -- PF Blake Griffin, Oklahoma
Team needs: SG or PF.
Analysis:
The Clips' roster is loaded with guys who have been productive at one point in their careers. Unfortunately the Clips had an abysmal year due to injuries, age and mismatches in the pieces to their puzzle. They do have two nice young pieces to build around in combo guard
Eric Gordon
and small forward
Al Thornton
. They also have veterans
Baron Davis
and
Zach Randolph
locked up for many years at point guard and power forward, respectively. Lastly, they have injury-prone but productive centers
Marcus Camby
and
Chris Kaman
, with youngster
DeAndre Jordan
to back them up. When it comes down to it they can really take the best player on the board, and they are lucky to be able to do that.
Griffin will be paired with Al Thornton to make a very solid 1-2 punch at the forward position. He also will be protected down low by two legit-sized centers in Kaman and Camby. If the Clips stay healthy this year, which is a big if, then they could be as good as most of the Western Conference teams. They are looking at a bench that can either include veterans Camby or Kaman and either Randolph or Griffin. To have four bigs that you can rotate and get production out of is very rare. It should be interesting to see how they all mesh next year.

Other potential picks:
Hasheem Thabeet or Ricky Rubio
2. Memphis--PG Ricky Rubio, Spain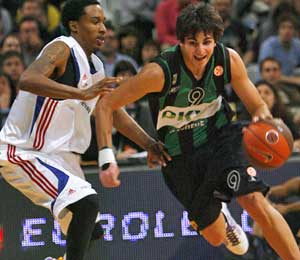 Team needs: PF or PG.
Analysis:
The Griz have two nice scorers in
Rudy Gay
and
O.J. Mayo
to build around. They also found a diamond in the rough as
Marc Gasol
proved to be a very capable big man inside. They are still waiting for Conley to come out of his shell at the point, but he showed flashes last year. They have a major hole at the four position, but they should be able to address that in the offseason. This pick is a two-man race between Thabeet and Rubio. I think they will go with Rubio because of their real need to get Gay and Mayo in positions to score. I know that they just used a top pick on Conley only a couple of years ago, but I think you need two good point guards to be successful in the NBA anyway. Also, I am not sure that Thabeet is the right low-post presence that they need.
With Rubio on board they can really get out in transition. I think they should try to find a power forward that can get out and run with those guys and they could be a dangerous team in a couple of years. Obviously, the perfect fit for this team would've been Blake Griffin, but I think Rubio will help them and hopefully will push Conley to live up to his potential. Lastly, one other interesting note is that they have a pick late in the first round (27) where they could also draft one of the many point guards in this year's draft. But, I think they'll go with Rubio here.
Other potential picks:
Hasheem Thabeet or Jordan Hill
3. Oklahoma City--C Hasheem Thabeet, Connecticut
Team needs: C or SG
Analysis:
They do have a need at shooting guard and could look there with this pick, but I think they have to take Thabeet. He would be a tremendous addition to a nice young team in Oklahoma City. With their core of
Kevin Durant
,
Jeff Green
and
Russell Westbrook
, this team really needs a big man to hold down the middle for them. He would help Green, who is an undersized power forward, and would also create double teams for Durant to shoot the ball. Furthermore, the combination of Westbrook's defense up top and Thabeet's ability to help down low would create a tremendous foundation for a good defensive team.
I have Thabeet ranked as the second-best player in the draft and I can't think of a better fit for him or a team in general than Oklahoma City. Look for them to also give Harden a look, but this to me should be a no-brainer and he would allow Oklahoma City to continue to grow its good young core.
Other potential picks:
James Harden or Ricky Rubio
4. Sacramento-- PG Brandon Jennings, Lottomatica Roma
Team needs: PG or SF
Analysis:
This is going to be a really tough decision for the
Kings
. The best guys on the board here are probably shooting guards. Unfortunately for the Kings that's the deepest and most-talented position that they have in
Kevin Martin
and
Francisco Garcia
. I would normally say that they should just take the best player available here, but I am not sure there is a big difference from among talent between this spot and the next 10-15.
My suggestion would be to try to trade down to someone who is heavily interested in either Jordan Hill or James Harden. It's no secret the Kings are hurting for cash and they may be able to unload one of their bad contracts and get cash considerations to move back a couple of picks.
Unfortunately for me and unluckily for the Kings, I have to put somebody here. I am going out on a major limb and having them take Brandon Jennings. I know, it's hard to imagine that a guy who could barely get off the bench in Europe is now going to be a top-five pick but there's no doubting his upside and the Kings really need not only a point guard, but somebody who will get the city excited again. Jennings has showtime in his game and has superstar quickness and passing ability. Trust me, I don't think this is the best pick of all-time, but I think they need to roll the dice rather than settle for someone like Harden, who will be behind Martin.
Other potential picks:
James Harden or Tyreke Evans
5. Washington--SG James Harden, Arizona State
Team needs: PG or SF
Analysis:
Gilbert Arenas
was tremendous in his brief stint at point guard last year and the
Wizards
will have to hope he can do the same this year. I know Arenas has said multiple times he sees himself as a point guard and he feels like he will be at his best at that position. Of course, he probably should worry about his health before anything.
They also could look at Tyreke Evans, who would be an interesting backcourt pairing with Arenas. Jordan Hill is another guy who may be a good fit and a player who could finally give them some much-needed interior scoring. Another interesting storyline is that the Wizards already are committed to 14 players for next year. Furthermore, they are already going to be about $3-6 million over the luxury tax when they draft this year.
When Flip Saunders was hired for $4 million a year, owner Abe Pollin professed he would do anything to bring a championship to D.C. Well, he's certainly opening up the wallet these days as they will have the highest payroll going into this draft and the offseason. That's right, the second worst team will have the highest payroll going into the offseason -- in a recession nonetheless. And it's not like we are talking about a NYC, Chicago or L.A. market. The Wizards were having a lot of trouble filling the building last year and the Capitals have officially taken up the part of vice president in the D.C. sports team popularity race (second to the always beloved Redskins). At what point does that payroll cause a concern with what they do with a high draft pick that will put their total salaries at close to $80 million next year?
Other potential picks:
Tyreke Evans or Jordan Hill
6. Minnesota--SG Tyreke Evans, Memphis
Team needs: SF or C
Analysis:
I think Evans is a very good fit for Minnesota. They have a solid frontcourt of
Kevin Love
and
Al Jefferson
to build on and
Randy Foye
has shown that at the very least, he can score in the NBA. I think Evans would complement Foye in the backcourt and would be able to either learn behind veteran
Mike Miller
or give them the flexibility to shift Miller to the three. If need be, Evans has the flexibility to play the three as well.
Evans has tremendous court vision and is at his best when he has the ball in his hands and can create for himself or his teammates. I think he will make Foye a better player and will help get Love and Jefferson the ball down low. I also like him here because he won't have to come in and start as the Wolves have a number of former high draft-pick wing players in
Corey Brewer
,
Rodney Carney
and Miller who Evans can play behind if need be.
Due to the lack of a true point guard the Wolves need a guy who can create and I think Evans is the best guy at this juncture in the draft. He gives them flexibility and options that they don't currently have in guys like Brewer, Carney and Miller.
Other potential picks:
Jordan Hill or James Harden
7. Golden State--PF Jordan Hill, Arizona
Team needs: PF or PG
Analysis:
It seems year after year Golden State has taken long and athletic power forwards with its first-round picks. While Hill is a long and athletic power forward he is different than
Anthony Randolph
and
Brandan Wright
. He is more involved in the paint and has already shown improvement in his three years in college. It's tough to figure out what philosophy the
Warriors
will have in the post-Chris Mullin era and they have more two guards than any other team in the league. It's also important to see where they plan on using Monte Ellis, as I am sure many Warriors fans would rather them take one of the many talented point guards in this year's draft.
If they plan to still play Nellie Ball then I think they might want to try to get one of those point guards. But if they are trying to build a more traditional team, Hill might be the right fit in the frontcourt next to
Andris Biedrins
. This will be a tough one to gauge due to the new administration.
Other potential picks:
Earl Clark or Brandon Jennings
8. New York--PG Stephen Curry, Davidson
Team needs: PG or C
Analysis:
I am not completely sold that Curry is the best fit for coach Mike D'antoni's system. But if they are going to try to get "you know who" in 2010, then I think Curry would fit nicely next to him. I think if Jennings is here they should also take a look at him. Jennings would be a good fit in the Big Apple. The
Knicks
also could, and probably should, take the highest guy on their board because they probably won't have more than three or four players from next year's roster on the team come 2010.
Let's face it: The Knicks aren't trying to win next year and are really setting themselves up for the 2010 season. Curry is the type of guy who will come in and do what the coach asks of him. He also will have the opportunity to learn from a solid and hard-working point guard in
Chris Duhon
.
This really could be anyone. I don't think they will take a two or three here so I am looking for them to look at one of the many point guards in this year's draft.
Other potential picks:
Brandon Jennings or Jonny Flynn
9. Toronto—SG Demar Derozan, Southern California
Team needs: SG or SF

Analysis:
The
Raptors
' biggest need is at shooting guard. They really lack an outside scorer who can play next to
Jose Calderon
and off of
Chris Bosh
. I know they could also use a center or even a small forward depending on where they plan to use
Andrea Bargnani
, but to me the biggest need is at shooting guard. Derozan has the body and a lot of the skills that two-guards need to possess in the NBA. He will give them an athletic player who can take the ball to the rim.
There is no doubt Derozan is still raw and needs to drastically improve his outside shooting if he wants to be successful at the next level, but I think he fits with what they are looking for at the two-guard spot. I would go for Gerald Henderson here, but teams often chose youth over more experienced guys and Derozan does have a lot of potential. They could also go with Earl Clark here, as he would fit nicely next to Bosh and Bargnani in an up-tempo system.
Other potential picks:
Gerald Henderson or Earl Clark
10. Milwaukee-- PF Dejuan Blair, Pittsburgh
Team needs: PF or PG
Analysis:
This should be a great match for both the team and the player involved. The
Bucks
really need a tough player next to
Andrew Bogut
and Blair would definitely provide that. He also would give this team a toughness they really need.
Charlie Villanueva
is a restricted free agent and even if he does return they still would need a banger down low.
I love Blair's game and his emotion will certainly be a boost for the Bucks. They also could look to sure up the point guard position with many of the fine point guard prospects in this year's draft. I also know that they took forward
Joe Alexander
last year, but he really didn't look like he was ready to contribute last season or in the near future for that matter. They have some issues at point guard with
Ramon Sessions
possibly leaving for free agency and
Luke Ridnour
's mediocre play, but I think the move should be to go after Blair.
Other potential picks:
Jonny Flynn or Jrue Holiday
11. New Jersey-- SF James Johnson, Wake Forest
Team needs: SF or PG
Analysis:
Johnson is one of three of four small forward prospects who could go here. He is a tweener SF/PF guy who has tremendous upside. I think he will end up fitting in at the three in the NBA as he improves his handle and his outside shooting. With their young core of
Devin Harris
,
Yi Jianlian
and
Brook Lopez
as centerpieces, the
Nets
have done a nice job of starting the rebuilding process. Johnson should fit in nicely with those guys to create a big front line.
The other option for them would be to go after one of the two-guards in the draft with the idea they can move
Vince Carter
over to the three or have that player behind Carter off the bench. Lastly, they have a clear need for a backup PG and they may decide to take the best available player, which will probably be a point guard. With all of that being said, I think Johnson would give this team some nice athleticism and would be a good piece to their foundation.
Other potential picks:
Gerald Henderson or Jonny Flynn
12. Charlotte-- SG Gerald Henderson, Duke
Team needs: SG or C
Analysis:
Charlotte's a team with a clear need since it traded
Jason Richardson
last year. With
Raja Bell
aging, it has a clear need to find an athletic shooting guard. Henderson is actually similar to Richardson in a lot of ways and I think he would be a great find for Charlotte at 12. I love Henderson's potential, but feel he will be able to fit right in and do some good things his rookie year.
With guys like D.J. Augustine (possibly
Raymond Felton
),
Gerald Wallace
and
Emeka Okafor
as a base I think Henderson will provide them with some much needed athleticism and more importantly perimeter scoring. Charlotte also has a clear need to have a center play next to Okafor, but this year's draft really doesn't have too many big men who will be able to help Charlotte next year, or in the future for that matter.
They could stretch for B.J. Mullens, but I think the
Bobcats
would be seriously disappointed if they did that. Lastly, if Henderson, Derozan or Evans aren't available here they may have to take the best available player on their board.
Other potential picks:
Terrance Williams or BJ Mullens
13. Indiana-- PG Jrue Holiday, UCLA
Team needs: SG or C
Analysis:
Even though the
Pacers
drafted
Brandon Rush
and
Roy Hibbert
last year I think they still have needs at both of those positions. I think Holiday also solidifies their point guard position if Jarett Jack moves on or if
T.J. Ford
's health doesn't hold up. Holiday might be the best available talent if he is still on the board here and I think he would give them insurance at both guard positions since he can play both effectively. With that being said, ultimately I see him as a point guard.
It's hard to see where the Pacers will go in the future. They are locked into
Danny Granger
,
Mike Dunleavy
and
Troy Murphy
's contracts, which will make it hard for them to bring in new talent outside the draft. Of those guys, Granger is the only one you would really want to build around and I think Holiday could be a nice sidekick for him (although I am not sure there will be many assists).
Other potential picks:
Stephen Curry or BJ Mullens
14. Phoenix-- PG Ty Lawson, North Carolina
Team needs: SF or PF
Analysis:
The
Suns
' biggest need is small forward. With an aging
Grant Hill
and
Matt Barnes
(who both may leave via free agency) they do have a clear need. But I think they will bring those guys back, as well as use
Jared Dudley
at that position when need be. With where they are drafting, I really think they should lock up a backup for
Steve Nash
. I personally am not that high on him, but I will admit Ty Lawson would be a great fit for there up-tempo style of basketball.
Also their current backup (
Goran Dragic
) didn't show he could be a quality backup point guard last year and
Leandro Barbosa
is at his best at the two spot. Because of this I look for them to take the best available point guard here. I know this would be a questionable move considering Nash's future is murky in Phoenix, but I think if they're going to keep him he'll need an adequate backup anyway. If they move him, then obviously they need a replacement and this draft is filled with guys who potentially could start at the point.
Other potential picks:
Gani Lawal or Eric Maynor
15. Detroit-- PF Gani Lawal, Georgia Tech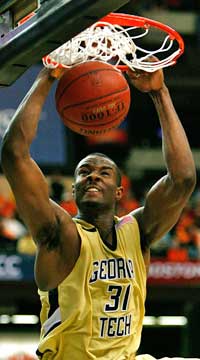 Team needs: PF or C
Analysis:
Lawal normally wouldn't go this high, but the
Pistons
have a clear need to get frontcourt help with
Rasheed Wallace
and
Antonio McDyess
likely leaving for free agency. Their perimeter players appear to be in place for next year in
Rodney Stuckey
,
Richard Hamilton
and
Tayshaun Prince
. Lawal potentially fits nicely next to those guys as he is as true of a power forward as any in this year's draft. He still has a ways to go, as he is just a sophomore, but he potentially could be a nice piece and would fit the Pistons' rugged style of play.
The Pistons are about to start the rebuilding process and could go a lot of different ways here. They could go for one of the point guards or could try to create depth behind one of their veteran wing players.
Other potential picks:
Earl Clark or B.J. Mullens
16. Chicago--SF Earl Clark, Louisville
Team needs: SF or PF
Analysis:
The
Bulls
basically need depth at this point in the dThe Bulls basically need depth at this point in the draft. I think Clark would be a good fit here as he would provide them with depth at two positions they need depth at (SF and PF). Clark has all of the potential in the world and could turn out to be a very good player at the next level. At the same time he isn't a consistent enough shooter to be a three and doesn't have the low-post game you need to have at the four so that leaves him in the classic "tweener" role in the NBA. But with the game changing and more and more teams using perimeter power forwards he may be able to fit in with the right system.
This pick also hinges on what happens with
Ben Gordon
. If he leaves then the Bulls may look for a backup shooting guard who could take his place like Clark's partner in crime at Louisville, Terrence Williams.
Other potential picks:
Terrence Williams or Sam Young
17. Philadelphia--PG Jonny Flynn, Syracuse
Team needs: PG or SF
Analysis:
This largely will be decided on what the
76ers
do in free agency as far as point guards. But even if they end up signing a point guard or resigning
Andre Miller
, they still could use another young point guard (
Lou Williams
is more of a two). I also could see them using this pick to go after a small forward to provide depth for
Thaddeus Young
, which they clearly didn't have when Young went down.
In a draft filled with point guards I would find it hard to believe they wouldn't swoop one up. Flynn is a guy who would really fit with there up-tempo style of play and does a great job of throwing alley-oops, which is significant when you play with the likes of
Andre Iguodala
,
Samuel Dalembert
and Young. I also think Flynn could step into a leadership role and provide toughness to a team that appears to lack both of those traits.
I personally love Flynn (not just because I am a Syracuse grad) and think he will thrive in the NBA. If he falls to here the 76ers will be more than lucky. But, it's really all about which point guard they like and Eric Maynor or Jeff Teague may be higher on their list. Also, a guy like Terrence Williams would be a great addition as he could backup Igoudala and Young.
Other potential picks:
Eric Maynor or Terrence Williams
18. Minnesota--SF Terrence Williams, Louisville
Team needs: SF or C
Analysis:
With them taking Tyreke Evans earlier and Terrence Williams here they have added two wing players who can handle and play next to Foye. I think Williams will play in the NBA for many years and would be a nice addition to this young team. His ability to play three positions will give them great flexibility and allow them to mix and match with different lineups. He played a lot of point-forward at Louisville and he could do that in the NBA for some time during a game.
They definitely could use a true center here as Love and Jefferson are both power forwards, so they may take Mullens. But I think they should, and will go with a proven commodity like Williams especially after they draft a freshman in Evans earlier in the first round. Lastly, if they believe that Foye isn't capable of playing the point then they could look to fill that void here, but I think they should wait until their third and final pick (27) to take care of that position.
Other potential picks:
Eric Maynor or B.J. Mullens
19. Atlanta--PG Eric Maynor, Virginia Commonwealth
Team needs: PG or PF
Analysis:
The
Hawks
still could use an up-and-coming lead guard. Bibby is a free agent, but even if he re-signs the team could use a young point guard they can have grow with their young core.
Acie Law
was supposed to be that guy, but he hasn't seized the few minutes he's played to prove he can be a consistent backup, yet alone a starter. They also could look for an energy power forward who could backup
Josh Smith
and give them either pick-and-pop capabilities or scoring in the paint.
The Hawks are a hard team to read as they only have seven players committed next year so how they draft depends a lot on their plan in free agency. No matter what they do they still need a complete point guard and Eric Maynor may be that answer. If they bring Bibby back this pick can provide backup minutes and defense for him, as well as battling Acie Law for that backup position. If Bibby leaves they may even give Maynor run the point full time. Either way, a point guard in a point guard-heavy draft is certainly a good move here.
Other potential picks:
Jeff Teague or Damion James
20. Utah--PG Darren Collison, UCLA
Team needs: PG or C
Analysis:
Like the Hawks, the
Jazz
will have to figure out what they are doing in free agency as they decide what they need in the draft. Regardless, they need a backup for Deron Williamsm, which was evident throughout the year and in the playoffs. With this in mind I think they will go to Darren Collison in the hopes he can serve as a steady point guard when Williams is out of the game.
Collison is a good shooter and is very cautious with the basketball. He comes from a UCLA system similar to Utah's and I think he will have no problem coming off the bench. He would be a good fit for the Jazz and he would fit a role as a very good backup for one of the league's premier point guards.
Other potential picks:
B.J. Mullens or Jeff Teague
21. New Orleans--PG Jeff Teague, Wake Forest
Team needs: PG or SG
Analysis:
The
Hornets
will probably try to sell this pick due to their lack of roster space and luxury tax problems. I think they will probably have a lot of trouble moving it because of the economy and the 2010 free agent class. So like the Jazz, I think they will provide their star point guard with some backup help. It was clear this team missed Jannero Pargo this year and relied way too heavily on
Chris Paul
.
The Hornets could also use backup frontcourt help, but I can't see them passing on Teague if he's around. Teague would be a very good backup and has the potential to be a starter in this game. He also can give them a little bit of time at the two-guard spot as he is one of the better scoring point guards in this year's draft.
Other potential picks:
B.J. Mullens or Darren Collison
22. Dallas--C B.J. Mullens, Ohio State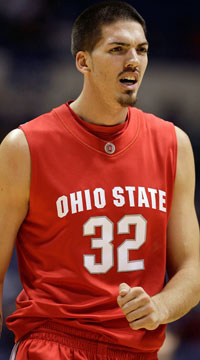 Team needs: C or SG
Analysis:
I know they also could use a point guard if
Jason Kidd
leaves, but they really need a center or a shooting guard. I also know I have put the name B.J. Mullens in six of the previous 21 "other potential picks." That's because 7-footers don't grow on trees and just about every team would love to have a 7-footer. The Mavs, as much as anyone, really need to get more production from there center. I also think they will be the ones to roll the dice on Mullens if he isn't drafted by any of those six teams mentioned earlier.
The Mavs could look to one of the true point guards who may be available as a replacement to Kidd, but I am not sure any of the true points will still be on the board. They also could go with Patty Mills or hope that Maynor slips here, but I don't think they're the most important needs as they already have Terry and
Jose Juan Barea
(Kidd may return as well). Nick Calathes is another interesting player here as he could play with Barea or Terry if they wanted to insert one of them into the starting lineup.
Other potential picks:
Nick Calathes or Jeff Teague
23. Sacramento--SF Sam Young, Pittsburgh
Team needs: PG, SF

Analysis:
Young would fit very nicely for a team that could use a solid small forward. The big downside with Young is that he is 24 and the Kings are in rebuilding mode. If they could add a point guard with their first pick and plug in Young then they would have a nice young nucleus of guys to go with this year.
They also could look to get some more depth on their front line, but Young should be able to steal some minutes at the four as well. He would add strength, athleticism and toughness to a rather soft starting lineup (see Kevin Martin and
Spencer Hawes
).

Other potential picks:
Patrick Mills or Damion James
24. Portland--SF Damion James, Texas
Team needs: PF and SF
Analysis:
The Blazers were the youngest team in the playoffs and really need to add the right mix of veterans around their young core. I am not sure if they need another young player to add to their core as many of their youngsters are already not able to get off of the bench. However, if I was going to add a piece I would look for a small forward or power forward backup.
Damion James could give them positive energy minutes and is basically the exact opposite of
LaMarcus Aldridge
. He would do a nice job of backing up Aldridge and also would give them nice minutes at the three if
Travis Outlaw
or
Nicolas Batum
struggle. I wouldn't worry about him as a backup 4 because of the size that they have at the 5.
Other potential picks:
Patrick Mills or Tyler Hansbrough
25. Oklahoma City--SG Nick Calathes, Florida
Team needs: SG or C
Analysis:
Calathes is a good fit here even if they decide to go with Rubio. Calathes would be a great guy to have next to Russell Westbrook and is the type of distributor a guy like Kevin Durant would love to play with. His ability to play both guard positions would be a plus when playing with Westbrook.
They also could take a look at Hansbrough as he would provide them with some toughness down low that they don't get from Green. Another option is to go with a more standard shooting guard to play next to Westbrook.
Other potential picks:
Tyler Hansbrough or Dionte Christmas
26. Chicago--SG Marcus Thornton, Louisiana State
Team needs: SF or PF
Thornton would be a good backup option for
John Salmons
if Ben Gordon decides to bolt. He is a tough two-guard who brings a lot to the table that Salmons lacks.
Chicago also could look to a solid pick-and-pop type of power forward as
Tyrus Thomas
clearly needs a backup. It lacks depth at the four and a guy like Dante Cunningham would fit in nice with them.
Other potential picks:
Austin Daye or Dante Cunningham
27. Memphis--PF Tyler Hansbrough, North Carolina
Team needs: PF or PG
Analysis:
Hansbrough is a great fit in Memphis where it really needs a power forward who can do the dirty work. With
Darrell Arthur
and Hansbrough it would have two meat-and-potatoes players who could do a lot of the dirty work needed down low.
They also could look at a point guard here if they decide to take Thabeet with the second pick of the draft.
Other potential picks:
Patrick Mills or Taj Gibson
28. Minnesota--PG Patrick Mills, St. Marys
Team needs: SF or C
Analysis:
The Wolves may look to move this pick or take a Euro as they already have two earlier draft picks and not that many roster spots next year. If they do take it they should take a long look at Patrick Mills. Mills is a lightning-quick point guard who would probably do a better job than
Sebastian Telfair
does at the point.
Look for the Wolves to either move this pick or go with a Euro due to lack of roster space.
Other potential picks:
Omri Cassipi or Josh Heytfelt
29. LA Lakers--SF Chase Budinger, Arizona
Team needs: SF or PF
Analysis:
If
Trevor Ariza
leaves the Lakers will really need someone to come in and play alongside
Kobe Bryant
and Co. Budinger is a very talented player who didn't quite accomplish what he should have in college. I think he would do well next to Kobe, who may get Buddinger to push himself a little more.
Budinger has a lot of talent on the perimeter as well as leaping ability that would make him a solid small forward. He would be served well if he ended up with the Lakers.
Other potential picks:
Tyler Smith or DeJuan Summers
30. Cleveland--SG Wayne Ellington, North Carolina
Team needs: SG or PF
I am not a big of a fan of Ellington, but he would be a great fit for LeBron's team. There are so many times when a player will get open looks when you play with the King and that is one thing Ellington can do.
He needs to improve his ball handling and his defense, but with LeBron he would have one role and he would be able to do what he does best -- shoot.
Other potential picks:
Jeff Pendegraph and Josh Heytfelt
Some other guys to keep an eye on:
Guards:
Jodie Meeks, Kentucky; Jeremy Pargo, Gonzaga; Dionte Christmas, Temple; Jerel Mcneal, Marquette; Wesley Matthews, Marquette; T. Douglas, Florida State; Jack McClinton, Miami; Curtis Jerrels, Baylor; A.J. Price, Connecticut; Greivis Vazquez, Maryland

Forwards:
Dante Cunningham, Villanova; Austin Daye, Gonzaga; Jeff Pendegraph, Arizona State; Taj Gibson, Southern California; Tyler Smith, Tennessee; Danny Green, North Carolina; DaJuan Summers, Georgetown; Derrick Brown, Xavier; Demarre Carroll, Missouri;
Center:
Josh Heytfelt, Gonzaga