Tyler Hansbrough: 6-9, 234, PF, SR. (University of North Carolina)
Draft Rank: #24
PF Rank: #4
Strengths: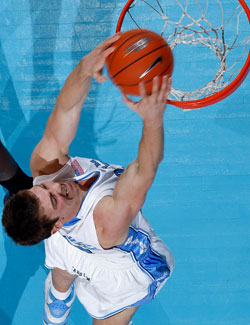 Has a great feel for the game. Really plays well when he faces up to the hoop and can either shoot the mid-range jumper or pump fake and take the ball to the hoop. Loves to be around the rim. Uses the rim to shield off opponents and score. Has very soft hands and a great touch on his shot. Plays with amazing energy and loves to be around the basketball. Understands positioning on rebounding and attacks the ball on the boards. High b-ball IQ. Has a great knack for getting to the foul line and knows how to use his body to take a blow and still get a shot off. Dives for balls on the floor and is constantly moving on the offensive end. Has good defensive position inside the paint and knows how to use his feet to draw offensive fouls. He has good speed getting up and down the court. Sets very solid screens. Is at his best when he is running down the floor ahead of his defenders and sealing the paint -- which he does often. Has good size to play the four in the NBA. Very good free-throw shooter for a big man.
Weaknesses:

His offensive game is very robotic. Struggles when playing against bigger and more athletic players. Not a good help defender or shot blocker. Doesn't have range on his shot to extend a defense. Plays below the basket. Is not a great passer. Lacks the foot speed or the quickness to defend outside of the post. Struggles defensively on pick and rolls.

Mental:
Tyler is mentally extremely strong. He hits big shots and has leadership qualities. He doesn't take plays off and has an incredible motor. His high b-ball IQ will allow him to be in the NBA and be effective for many years. He is very tough and doesn't shy away from contact. He usually has his head up and isn't fazed by adversity. When he gets challenged physically he rises to the occasion and steps his play up. Mentally he is one of this draft class' most prepared for challenges of the next level.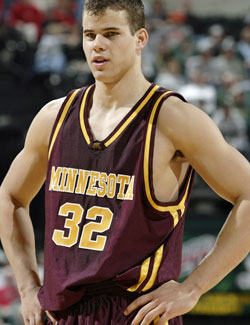 Extra Info:

-- 2008 Naismith College Player of the Year
Comparison:
Kris Humphries: 6-9, 238, PF
Would be a good fit for: Memphis Grizzlies, Portland Trail Blazers, or Chicago Bulls
Conclusion:
Unfortunately, the college and the NBA games are significantly different. The NBA game today relies on quickness, versatility and athleticism. Hansbrough struggles in those departments. It's hard to ignore his consistent production, but people have to remember the history of the NBA Draft and that great college players don't always make great pros. Do you remember J.J. Redick, Adam Morrison, Trajan Langdon, Mike Sweetney, Sean May, Gerry McNamara, Shelden Williams, Marcus Fizer, Christian Laettner and Joe Smith (Laettner and Smith both have/had decent careers), Juan Dixon, Bobby Hurley, Khalid El-Amin, Mateen Cleaves, and Lonny Baxter? They were all dominant in college, but didn't come close to having the same impact in the pros. Unfortunately, it happens.
I do think he will be better than Kris Humphries in the NBA. But his game is pretty similar to what Humprhies' game is, and was, in his one year at Minnesota. The main difference is that Hansbrough has proven to be a winner and that he will do whatever it takes to help his team. Obviously, Hansbrough's four years of production at UNC compared to Humphries' one is a major difference, but if Humphries had stayed for four years what do you think his production would have been? I know that some will say, well if he had stayed then maybe he would've been more ready for the NBA like Hansbrough is now. But plenty of one-and-done or high school players have had success in the NBA. The top players in this season's NBA Finals never played any college ball.
Here are the freshman year numbers, and draft combine stats, for Hansbrough and Humphries, respectively.
| | | | | | | | | | | | | |
| --- | --- | --- | --- | --- | --- | --- | --- | --- | --- | --- | --- | --- |
| Name | MPG | PPG | RBP | Assists | Height w/o shoes | Height w/ shoes | Weight | Wingspan | Vertical | Bench Press | 3/4 Sprint | Lane Agility |
| Kris Humphries (Minnesota freshman) | 34.1 | 21.7 | 10.1 | 0.7 | 6' 8.25 | 6' 9.5" | 238 | 7' 0.5" | 36" | 22 | 3.2 | 11.33 |
| Tyler Hansbrough (North Carolina freshman) | 30.4 | 18.9 | 7.8 | 1.3 | 6' 8.25 | 6' 9.5" | 234 | 6' 11.5" | 34" | 18 | 3.27 | 11.12 |

Do I think Hansbrough has a role at the next level? Yes. I just don't see him as a starter. I think he will be a guy who can come in and give a team some points and offensive boards. I see him as a hustle guy, which teams really do need and value. He does so many good things on the floor he should be an asset for any team that he goes to. But I just don't see him being dominant in the low post or being a consistent starter at the next level. I know people don't want to hear it, but you do have to look at a guy's upside and try to figure out what he can become. I don't blame Hansbrough for being in college for four years or take anything away from his potential as a result of his time in college. I have seniors Sam Young and Terrance Williams ahead of him because I think their talents translate better. Look for Hansbrough to be a contributor off the bench for whatever team he goes to.