By Pete Pistone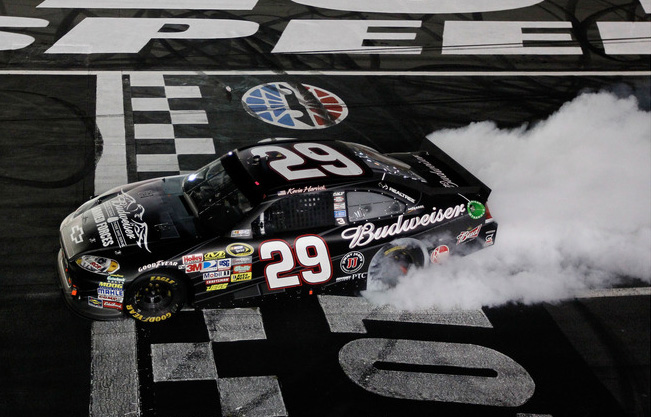 (Harvick scored four victories in 2011 but came up short again in his bid for a Sprint Cup championship)

Review
The 2011 season didn't go exactly as Richard Childress Racing had hoped.
After Kevin Harvick came close to winning the 2010 Sprint Cup championship, RCR was poised to make a string run at the title in the following campaign.
But despite enjoying six overall trips to victory lane, the Childress camp came up short of its goals for the season.
Only Harvick made the Chase of the four RCR drivers and although he won four times he finished third in the point standings for a second straight campaign.
We want to race for a championship," Harvick said. "With the performance we had through the year, it was a decent season. But we need to make things better for next year as we move through the winter."
Harvick's early season success helped solidify his reputation as "The Closer" as he won two races with dramatic late lap moves.
He passed Jimmie Johnson on the last lap for the lead and the win at Auto Club Speedway in March and then capitalized on others running out of fuel on the final lap to win May's Coca-Cola 600 at Charlotte Motor Speedway.
However despite winning for the fourth time in the regular season finale at Richmond to secure the second seed in the Chase, Harvick was not able to mount a charge for the championship and wound up 58 points behind eventual champ Tony Stewart.
Harvick's three other teammates failed to qualify for the playoffs but did have some success of their own during the course of the season.



Paul Menard scored his first career Sprint Cup Series victory with a dramatic win in the Brickyard 400 at Indianapolis Motor Speedway.
The dramatic win ended a long quest by the Menard family to win at the famed track including father John's days as an Indy Car team owner.
"1989 I think was my first year here," Menard said after the win. "I spent 14, 15 years in a row just hanging out in the infield being a fan. In 2007, I got to race here. It was definitely the highlight of my career up until that point. Here we are in victory lane. It's unbelievable."
Menard was in the hunt for a Chase wild card berth but missed the playoff race despite his best career Cup season that included a seventeenth place finish in the standings.
Clint Bowyer ended his tenure at RCR missing out on the Chase but was able to finish the year with a strong run behind the wheel of the No. 33 Chevrolet.
Bowyer picked up a checkered flag at October's Talladega race narrowly edging out teammate Jeff Burton for the victory.
"He worked so well with me all day long," Bowyer said of Burton. "You hate that it comes down to that. It is what it is. You owe it to your team, to your sponsors to go out and win the race."
Bowyer ended up 13<sup>th</sup> in the final standings.
Burton struggled in the first half of the year until team owner Childress inserted Luke Lambert as interim crew chief to replace long-time RCR employee Todd Berrier.
He finished a disappointing 20<sup>th</sup> in the standings but a series of Top 10 runs to end the year has Burton feeling better about the future.
"The performance this year was not up to par but our string of Top 10 finishes toward the end of the season is a promising feeling going into next season," he said.

Preview
It will be a new-look RCR squad heading into 2012 starting with a contraction of race teams.
Childress will field a three-car stable for the new campaign with Bowyer departing for Michael Waltrip Racing and the No. 33 ride shut down due to the lack of sponsorship.
While disappointed he wasn't able to find funding to keep the car on the track in a full-time capacity, Childress is still bullish on his team's strength for the coming season.
"Right now we're looking at three Cup cars…," said Childress, who may field a fourth entry in a handful of races for grandson and truck champion Austin Dillon. "Who knows what may come up between now and then. I've had offers to race people and race drivers and had another full sponsorship with a driver.
"I just want to make sure it's the right move when we make it. So we're still as of right now, we're three Cup teams."
Harvick returns to the No. 29 Chevrolet but with a new crew chief after Gil Martin was replaced by Shane Wilson.
Harvick and Wilson have a long history of working together dating back to their Nationwide Series success which both feel will be beneficial to improving the performance of the Cup effort this season.
"Shane is a good friend of mine, and we had a lot of success together in the NASCAR Nationwide Series," Harvick said. "He has a lot of experience now in the Sprint Cup Series, and I look forward to working with him again."
Menard's team returns intact with veteran crew chief Slugger Labbe calling the shots. Last year's success and first win has the former Daytona 50 winner feeling good about what lies ahead in season number two with RCR's No. 27 Chevy.
"Paul and I have worked together now for a number of years," said Labbe of the time the duo spent at Richard Petty Motorsports before migrating to RCR. "Our relationship is solid and we understand one another better than ever which is a key. We have a solid race team behind us and know what we accomplished last season was only the beginning for this group."
Finally Burton comes back in the Caterpillar No. 31 ride with yet another new crew chief in Drew Blickensderfer, who worked with David Ragan at Roush Fenway Racing last season.
The highly-touted crew chief and veteran driver Burton both believe they can continue the progress the team made at the tail-end of last season to have a much better 2012.
"We're putting ourselves in position to have fast enough race cars, and have the right group assembled," Burton said of his team. "I feel like we're in that process as far as getting back to where we can be competitive, and putting ourselves in position to win races. It doesn't happen overnight. But yeah, I do feel like we're building that."

Outlook
Sizing down to three cars isn't the worst thing for RCR, which will be able to concentrate its efforts in a more focused matter. But with two of the trio sporting new driver-crew chief combos, there may be some initial growing pains. Equipment-wise RCR is one of the sport's powerhouses and its engine program was again stellar last season. Horsepower won't be an issue again in 2012. Better consistency in the Chase for Harvick and whether Burton can bounce back while Menard continues to improve will be the main questions around RCR in the coming season.


CHECK OUT MORE POSTS FROM OUR 2011 TEAM REVIEW/2012 PREVIEW SERIES

For more NASCAR news, rumors and analysis, follow @PPistone on Twitter, subscribe to the RSS feed