By Pete Pistone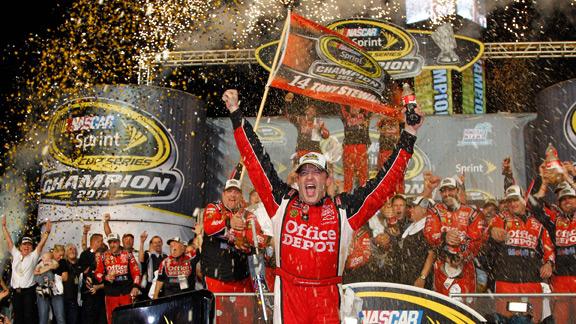 (Stewart joined a select group of NASCAR drivers with his third career Sprint Cup title in 2011)


Review
When Tony Stewart was asked before the Chase even started whether or not he was a championship-caliber driver in 2011 he answered in no uncertain terms.
"I will be perfectly honest," Stewart said after his August finish at Michigan. "At this point of the deal, if we're going to run this bad, it really doesn't matter whether we make the Chase or not because we're going to be occupying a spot in the Chase that somebody else who actually can run for a championship is trying to take -- because our stuff is so bad right now. We're wasting one of those top-12 spots right now."
But once the playoffs started Stewart was not just taking up space among the dozen Chase drivers. He put on an historic performance that saw the No. 14 Chevrolet roll into victory lane five times over the final ten races helping Stewart win the Sprint Cup championship in a tiebreaker over Carl Edwards.





Stewart capped the run with a remarkable effort in the Homestead-Miami Speedway season finale all but willing his car to victory and in the process wrapping up his third career Cup title.
"It truly was one of the best battles, I feel like, in the history of the sport because of that, not just because of the outcome of who won, but just the fact that you had the top two guys that literally fought it out," Stewart said of the hard fought struggle with Edwards as the season wound down. "And other than Phoenix, we ran second and third there, but we virtually raced for the wins and to win a championship at the same time.
"It wasn't just a head-to-head battle and who got more points than the other by finishing ahead. We were winning races and finishing in the top three to do it. To me, that's the part of it that kind of brings out the race fan in me."
Championship number three put Stewart in some elite company with the likes of Dale Earnhardt, Richard Petty, Lee Petty, David Pearson, Cale Yarborough, Darrell Waltrip, Jimmie Johnson and Jeff Gordon. Stewart considers it an honor to be among the group who have won three or more titles at NASCAR's top level.
"Every one of those drivers that have won three championships are icons in this sport," Stewart said. "I somewhat honestly feel out of place being on that list. At the same time, I feel honored to be in it with them."
The crown was the highlight of an overall great season for Stewart-Haas Racing that also saw teammate Ryan Newman win a race and make the Chase.
He hammered home 17 top ten finishes including a victory at New Hampshire Motor Speedway but Newman wasn't able to back it up with a better performance during the Chase.
The disappointing playoff run left Newman ultimately frustrated when the season came to a close although he was proud of the team's overall accomplishment.
"We just had too many issues and a streak of bad luck during the Chase," said Newman. "The late charge began with a 10th-place finish at Martinsville Speedway and included a fifth-place run at Phoenix International Raceway.
"You always want to end the season feeling good. The spirit is high at our Stewart-Haas Racing shop and the No. 14 team did a remarkable job in the Chase."

Preview
Despite winning the championship, SHR made some dramatic changes in the off season and will try to defend its title with a distinctive new look.
Stewart parted ways with crew chief Darian Grubb and brought in Steve Addington to take the role after the veteran's departure from Penske Racing.
Addington believes he'll be a good fit working with Stewart because of their similar backgrounds and styles.
"If I just go out and do my job, I've got confidence in myself and the organization to go out and win races and compete for a championship," Addington said. "I'm not going to be the big difference. It's going to be the people in the organization. Tony Stewart is a hell of a race-car driver and he is going to go out and win races if we give him a car that is capable of being competitive."
As for the decision to replace Grubb even after winning the crown, Stewart says it was nothing personal and strictly business.
"There were a group of us that sat down and had to make a decision and the decision was that we needed to go in a different direction," Stewart said. "That decision was made before the Chase started. We said we wanted to finish this thing out strong together; we were going to do it to the end of the year.
"I'm very, very proud of the fact that through that, (Grubb) was able to do a great job and we were able to come out with a championship. It's a pretty strong statement."
Stewart made another strong statement regarding the future of his race team when he brought Greg Zipadelli, who served as his crew chief during their days together at Joe Gibbs Racing, in to serve as Director of Competition.
The formerly successful duo is looking forward to the chance to once again team up and make a run at a title.
"Joe Gibbs always says that you win with people, and Tony Stewart is a winner," Zipadelli said. "We won a lot together at Joe Gibbs Racing, and it was a sad day when he left. But Tony had an unbelievable opportunity with Stewart-Haas Racing, and he's obviously made the most of it.
"To become a part of what he's already built, but to do it in a new role with a new set of responsibilities, was a challenge I wanted. I really appreciate Joe and J.D. Gibbs for all that that they've given me over the years and for allowing me to seize this opportunity."
Zipadelli's role at SHR will also include a little crew chiefing as well as he'll call the shots for Danica Patrick as she makes her move into a full-time NASCAR career.
Patrick will run a ten race Sprint Cup Series program for Stewart's team in addition to her full-time Nationwide Series schedule for JR Motorsports and she's looking forward to working with the man known as "Zippy."
"I feel really comfortable with him so far," Patrick said during last week's Daytona Preseason Thunder test. "I feel respected, and I feel like he's been very patient.
"Even the little things, getting here this morning and just kind of adjusting a belt a little bit and adjusting a throttle a little bit, he doesn't look at me like I'm inexperienced and I should be comfortable right away or it should be right or the throttle doesn't feel right or I should get used to it and be used to it. He investigates and says, 'no problem, let's get it right,' and makes me comfortable with that kind of stuff."

Outlook
Expect Stewart to be back in the mix for a fourth championship and Newman to again challenge for a Chase spot. The chemistry between Stewart and Addington should gel quickly while Newman and his veteran crew chief Tony Gibson are also a solid pair. Patrick's Cup effort will be nothing more than an extended period of her getting seat time and a finish anywhere inside the first twenty would be considered a success.

CHECK OUT MORE POSTS FROM OUR 2011 TEAM REVIEW/2012 PREVIEW SERIES

For more NASCAR news, rumors and analysis, follow @PPistone on Twitter, subscribe to the RSS feed