MATT JONES

4:15 PM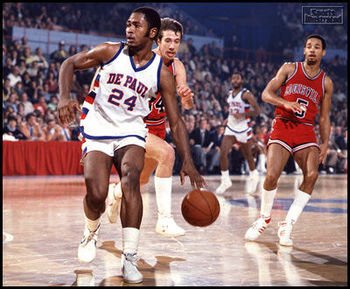 Five Thoughts on Louisville- Depaul, a game I would have never imagined I would attend:

1. Mark Aguirre is Not Walking Through that Door
I am not certain how it is that Depaul isnt a basketball power. They play in a city that produces top high school talent like Rick Pitino produces Boos and hisses at a NOW convention. Yet it has essentially been irrelevant on the national basketball scene for 20 years and has watched as fellow Big East schools in talent black holes like West Virginia and Syracuse have become Top Ten programs. Four NCAA Tournament appearances in 20 years in a city in which basketball is THE local sports of passion. There is simply no excuse.

2. The Louisville Staff is Bizarre Looking in Person

Listen we could make Rick Pitino jokes all day (and we will). And yes, he has somehow transformed from the most handsome and dapper coach in college basketball in the 90s into a slightly less creepy version of The Cryptkeeper . But he isnt the only one that would turn heads. Assistant Coach Ralph Willard is channeling Christopher Lloyd in "Back to the Future" and Ron Mercer/Steve Masiello both look like they ate the college versions of themselves that played at Kentucky. If ever there were a staff that needed an Extreme Makeover, Louisville would fit the bill.

3. Empty Arenas Make Your Eyes Explore

Our first two stops on this trip were in arenas with loud student sections and crowds doing some version of a "White-out" in order to get ready for a big game. This arena is only about 65% full and half of the crowd may be Louisville fans. Thus I am able to look around and seek diversions in other parts of the building. My favorite part of the Depaul arena is the 50 year old woman holding up a sign behind me that says "Even Tiger Would be a Better Husband than you would Rick." Success is indeed a choice.

4. Louisville Travels Amazingly Well

I have been to a lot of big arenas and watched the largest fan bases do their thing. No one is more passionate and travels better than the Big Blue Nation of Kentucky. But in terms of sheer numbers relative to their size, Louisville might be #2 in America. Yes teams like Kansas, North Carolina and Duke may have more fans, but when the game is somewhere else and presence needs to be found, the Card faithful represent their team better than any of those groups per capita.

5. Bob Valvano is Not Scared to Look at Your Funny

Lets say that you happened to be in Cedar Falls, Iowa last night for a Northern Iowa game. And then lets say that you drove all night and ended up at a Depaul game on Saturday afternoon. And then pretend that for both games, ESPN analyst Bob Valvano was doing tv work and he saw you and your fellow roadtrippers in both places, wearing the same clothes because you hadnt had time to take a shower. In such a situation, he will look at you funny and stay at least five feet away...just so you know in case you are ever in the same situation.