JOHN WILKINSON
7:00 PM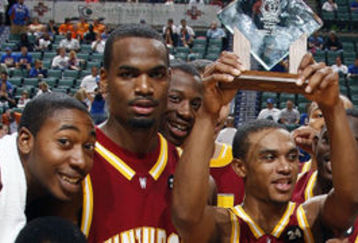 Apologies to Jim Nantz for beating him at his own game.
For the 9th time in 11 years,
Winthrop is your Big South champion
.
The Eagles managed to implore their plodding, physical brand of basketball on Coastal Carolina, stunning their hosts 64-53, before a star-studded record crowd of a thousand? No, more like 1,030!!
Winthrop lacks star power and pizazz but they could potentially be a worthy test for a number of projected 2 and 3 seeds, due to their ability to slow down the tempo and defend.
Tough ending to a banner season for Coastal and head coach Cliff Ellis, who tumbles back into 'that old Auburn coach.' Honestly, I watched pretty much every play of this game and none of them were very memorable, nor any single performance spectacular, but some might argue it's not really about what I want.
In a rather ironic twist, a
building on the Winthrop campus nearly burned down this afternoon,
it's cause unknown, it's presence, symbolical. You know, a mattress or sofa would have been just fine. Much more controlled and still hammers home the same point: Winthrop, Big South Champs.
March, how did you get so mad?
AP Story