JOHN WILKINSON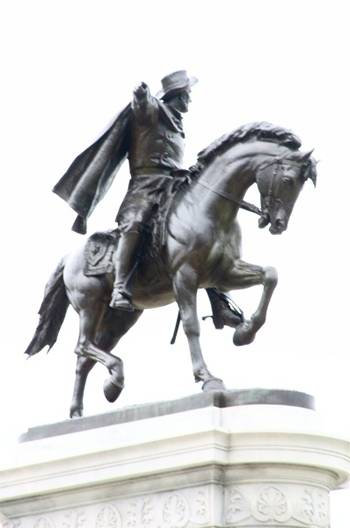 We've encountered a number of schools bearing stately namesakes thus far in our mid-major melange, from Oral Roberts, to Robert Morris, Austin Peay to St. Peter's, it seems as if everyone has their own school these days. It's even more prevalent in the lower divisions. Here,
take a gander at a this sample DIII conference tournament bracket
and see for yourself:
(1) Grover Cleveland St. vs. (6) Saint Pete Beach
(3) Rube L. Goldberg vs. (4) Ernest P. Worrell
(2) Soulja Boy Military Institute vs. (5) Hall & Oats
I know what you're thinking, and yes, Ernest P. Worrell is indeed a sleeper, but allow me to direct your attention to the
Southland Conference Tournament
and this year's most intriguing namesake,
Sam Houston State.
Sam Houston, the man, is the only gent in our nation's history to govern two states (TN, TX) and a hell of a model american. His team, Southland Conference regular season champs, begin their post-season trek this evening with the hopes of earning just their second trip to the tournament in school history.
My interest in the Bearkats began way back in November, when I was on hand to watch them play in Rupp Arena. They left with a 10 point loss, but not before setting an arena record by
draining 18 of 38 3-pointers
and scaring the hell out of everyone in the Bluegrass. 11 of those 3's came off the finger-tips of one
Cory Allmond
, who was an astounding 11-16 from long range to finish with 38 points, and got his name in the arena's hallowed record books as well.
Fluke?
Well, 18-38 is impossible to top, but the Bearkats have maintained their hot shooting and prolific offense for the entire season, ranking 8th nationally in 3's per game and scoring average. They also average an
NCAA leading 20 assists per game
and even though Kentucky's defense in November was nothing more than dribbling cones, Sam Houston St. showed what they're capable of.
With their reliance on the 3 ball, the Bearkats are always one off-night from having their season come to an end, but man when they're hot, look out big conference under-performer (see: Kentucky, 18 point win @ Auburn).
The Southland tournament is already under way in Katy, TX, with
Sam Houston set to tip-off against Nicholls St. at 7
. Keep an eye on Southland and see if the Bearkats indeed packed their tournament touch.
Southland Conference Tournament
Katy, TX
Today-Staurday
Today's Scores:
(2) Stephen F. Austin 77
(7) UT-Arlington 54
(3)Texas A&M-Corpus Christi 78
(6) UT-San Antonio 66