MATT JONES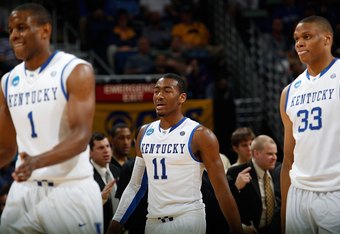 Well that dream is now shattered. All week long every lazy columnist in America wrote the same article. Cornell, the loveable Ivy upstarts would be playing bad 'ol Kentucky and their future NBA talents. Wouldnt it be great if they won and got a victory for the little guy and all that is good? As played out as the storyline was, it
got the attention of Kentucky
and they came out and exerted their will on Cornell, dominating the Big Red 62-45.
Cornell came out early and took a 10-2 lead, but soon thereafter, the Big Blue put on a defensive performance that is likely the best we have seen in college basketball this season. John Wall, Demarcus Cousins, Patrick Patterson and the rest of the Cats
closed out on every shooter
and made it impossible for Cornell to get open looks. And when an Ivy team isnt able to take open shots and has to beat you off the dribble...well that is an Ivy team that will not last long. The Cats held Cornell to 6 points over the last 15 minutes of the second half, took a 16 point lead to the locker room and coasted on to a rather comfortable victory.
After the game, the Kentucky players noted that the media hype of the loveable underdogs motivated them. John Wall said, "we knew everyone wanted us to lose and I was ok with that. If people dont like you, there isnt anything you can do except go and prove them wrong." And prove them wrong they did. Kentucky was clearly the superior team on the court during the entire game, laying waste to those (like PTI's Mike Wilbon) who called the game a "pick em."
It is however a great season for Cornell, as their 8 seniors leave a great legacy and an amazing Tournament run. Kentucky gets West Virginia next. Its Huggy Bear vs Calipari, two of the three or four most disliked coaches nationally going for the Final Four. Defense will rule and you can guarantee the winner will be tough as nails.