C.M. TOMLIN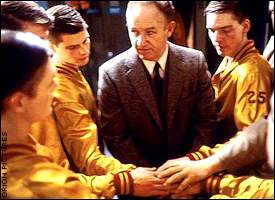 When I look at this 2010 NCAA Tournament Championship, a battle between tourney juggernaut Duke and plucky cinderella Butler, being played only miles from Hinkle Fieldhouse and featuring an underdog group of Indiana basketball players in an unbelievable but inspiring run to the trophy game, I can only think of one memorable film from the eighties to which I can compare the storyline of this exciting matchup.
That movie, of course, is Nightmare on Elm Street 3: Dream Warriors.
In that film, a group of school kids from a small town in midwestern America had all their dreams come to life – but unfortunately, a villain waited in the shadows. Truly, the Butler Bulldogs are a worthy comparison to the confident kids in that film – Joey, Taryn, Kincaid, Will, Jennifer and Phillip. And just like this likeable team of determined teens at Westin Hill Psychiatric Hospital, they have a protector in Nancy Thompson (Brad Stevens) who realizes there's a force much powerful than them who will stop at nothing until they are crushed. Nancy (Brad Stevens) also has valuable allies supporting her in Lt. Donald Thompson (Butler assistant coach Terry Johnson) and Dr. Neil Gordon (assistant coach Micah Shrewsberry), who also pinpoint the terrifying force stalking the kids and vow to assist Nancy in any way to help her (him) defeat it.
Nancy, Lt. Thompson and Dr. Gordon realize that the powerful monster Freddy Krueger (Duke University) has come back again from the dead to kill everybody, and he is successful for a while. Joey (Ronald Nored) is paralyzed as Freddy tries to keep him incapacitated, but he is saved by quick thinking from Nancy. Lt. Thompson and Dr. Gordon help Kincaid (Gordon Hayward) fight Freddy in a junkyard (Indianapolis). During a final battle Freddy gets the best of Nancy, but at the last second Kristen (Shelvin Mack) figures out a secret way to destroy Freddy and all the ghosts of all the people (teams) Freddy has killed all come to say thank you and a bright light grows overhead. One shining moment illuminates everyone.
This is how Butler will win. And you shouldn't question it, because I am an accredited CBS sports writer.
Also, at the end while everyone is happy, a light will suddenly come on in Freddy's house – meaning maybe he's not dead and maybe he'll be back.
But that's Nightmare on Elm Street 4: The Dream Master (Duke vs. UCLA in a 2011 tournament Elite Eight matchup). And you'll just have wait for that.