It's the time of year when football players report to training camp—unless you're Darrelle Revis, of course —and work on getting faster, stronger and ironing out kinks in their technique, all while refining basics like blocking and tackling.
We spent the summer doing the same thing here at CBSSports.com. We worked hard on today's launch to make the site design cleaner, scores more accessible, and our coverage more expansive. Oh, and there's still plenty more to come!
But first, thank you. We appreciated the feedback from the initial phase of our redesign. Many of you completed a survey or posted a response to this blog back in March. We read all of your comments, and we hope you notice some of the proof in the pudding.
If you have ideas to improve the site, please let me know. You can, of course, discuss the changes with me and others by posting a message below. You can also contact us via
Twitter
or
Facebook
.
However, if you find a bug, need help for something unrelated to the site redesign, or otherwise need customer service, please contact us through the
Help
center so that we can respond directly to you.
---
The X's and O's on Today's Launch
Back in March we focused on simplifying navigation, changing the color palette, and eliminating clutter on the home page. In this phase we upgraded how our sports coverage is presented across the entire site.
Cleaner design
We upgraded the visual design and attacked usability problems throughout the site that have likely plagued some of you for years. How? Open layout, larger font sizes, cleaner tables, intuitive interfaces, and navigational enhancements to make it easier to get the sports news and information you're seeking faster.
Easy access to what you care about most...scores
"Scores at a glance"—the new scoreboard now located prominently at the top of the home page and each in-season sport section home—enables you to get custom scores based on teams you follow, your Fantasy teams, and any game that's in progress. It also provides quick, simple navigation to game previews, recaps and live GameTrackers.

Expanded coverage
There are many ways to tell a story and we're striving to give our 24x7 sports coverage team flexible ways to present what's important. The new site allows us to better integrate our real-time coverage—so that you can get into the game as it's unfolding.
You'll notice the big new cover story treatment. That's just the beginning. It will soon feature embedded presentations of our video, scores, dynamic content, live feeds, and other interactive coverage.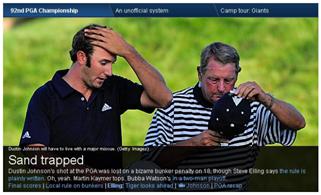 More video throughout the site. With the redesign we have more ways to provide access to live video, highlights, and analysis from the 11,000 live events streamed by CBSSports.com annually.
After serving 53,746 RapidReports last year we designed a new, personalized way to get the web's only real-time database of on-location NFL reports.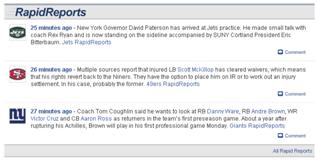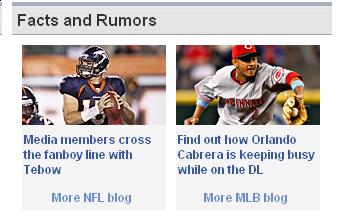 Team and player pages were reorganized to present wide-ranging and in-depth coverage. And as a first step toward the redesign of our Community, we enhanced the comment boxes on these pages to make it easier to get into the discussion with other fans.
With these changes, we're only half-way through the redesign!
---
What Does It All Mean?!
Based on the feedback we received from many of you on the Beta version of this launch, it's not difficult to notice that this year's redesign represents a big change—especially since the previous version of the site in February. Internally, we've deemed this the most significant overhaul since 2002.

While the new site marks the second major release this year, we still have plenty of additional upgrades in the works for the fall and into 2011. Some things to keep an eye on as we head into the next chapter of our redesign:
An innovative way for you to quickly and easily get the up-to-the-minute content most relevant to all your sports interests.
Revolutionary changes to Community that will make it not only easier to connect from anywhere around live events and hot topics with other fans on CBSSports.com, but also with friends on your favorite social networking sites.
Overhauled site search indexing all pro, college, and high school sports content from CBSSports.com, the CBSSports.com College Network, MaxPreps, and even sports content from across the Web recommended by you.
Not to be outdone by some of these other enhancements, we've been working since last year on the next generation of our award-winning Fantasy Sports games. Still the best, but now even better, look for the first phase of our redesigned games to launch with Fantasy Baseball 2011.
And there's even more to come. We're even working behind the scenes on platform changes that—while they may not affect you much today—will accelerate how we innovate new sports experiences as we head into 2011 and beyond.
---
Take a Minute to Let Us Know What You Think
Feel free to drop me a line on the comments section of this blog. I welcome your thoughts, both favorable and critical. This will serve as a forum for your voice to be heard.
I'll try and answer as many questions as possible, but it's really your site...thank you for your participation in the development process.
Again, if you find a bug, need help with something unrelated to the site redesign, or otherwise need customer service please contact us through the
Help
center so that we can respond directly to you.
Thanks for using CBSSports.com,
Patrick