By Erin Brown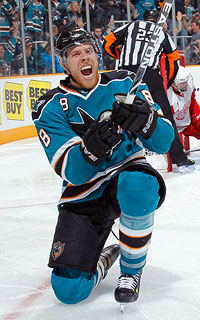 On a night where the San Jose Sharks' top line got clicking once again, Joe Pavelski still found a way to steal the spotlight.
Pavelski scored twice -- including the tying goal 4:40 into the third period -- and registered an assist in San Jose's 4-3 win over the Detroit Red Wings Sunday night.
The effort marked Pavelski's third multi-goal consecutive game of the postseason. The feat was last achieved by Pittsburgh's Mario Lemieux in 1992. Pavelski now leads postseason goal scorers with nine, and ranks second only to the Penguins' Sidney Crosby in points with 14.
"He's such a complete player," San Jose's Joe Thornton said. "He plays hard at both ends of the rink. He competes every night. He's just in a zone, and when you get in a zone, you just have so much confidence and you feel like you can do anything."
In Game 2, the 5-foot-11 center known as "Little Joe" pretty much did everything. Pavelski led the Sharks with 11 shots and dominated in the faceoff circle, winning 13 of 16 draws.
San Jose's first line of Thornton, Patrick Marleau and Dany Heatley , meanwhile, combined for a goal and five assists.