While teams will be scrounging to find quality point guards in the 2010 draft, at least after John Wall is long gone to Washington, teams needing a scoring spark will find at least nine off-guards that will probably hear their names called in the first round. This position is loaded with talent, thus pushing guys that should have been first rounders, if they came out last year (Willie Warren, Greivis Vasquez), into the second round.
My trusted Global Basketball Dictionary describes shooting guard as a position where the player is depended to shoot more and handle the ball less than the point guard. Most shooting guards are often their respective team's best three-point shooter.
Like most of the other positions in this draft, seniors are not getting "much love" from NBA teams. Based on the chart below, the top-rated senior "two" guard is Mikhail Torrance, but based on recent workouts, some team might just make Vasquez the first four-year player among this position group to be selected (Knicks are in love with him and are trying to trade into the late first round).
It is unanimous that Evan Turner is the best shooting guard in the draft. Still, teams look at Paul George as just a shade under Turner and Xavier Henry has done a nice job of answering questions by several clubs about his ability to play the "two" spot. Avery Bradley is too undersized to play this position, many teams claim, and might end up being selected as a point guard, despite not being the greatest ball facilitator around.
Eliot Williams is the "mystery man" of the draft, as he first failed to show up at the Chicago pre-draft camp and rumors persist that he suffered a knee injury in one of the few workouts he conducted (for San Antonio). He's been hiding out recovering in Los Angeles. Maybe he is trying to become this draft's version of "Carmen Sandiego." One wing that is certainly going to be coveted in the mid-first round area is Oklahoma's James Anderson. Terrico White and Jordan Crawford are also getting lots of "love" from late first round teams.
Willie Warren's injuries, questionable work ethic and otherwise uninspired play last season makes him one of the draft's big gambles. That is, unless teams wait until round two to call his name. Maybe it's just me, but do other teams feel that Lance Stephenson has more skeletons in his closet? With his track record away from the game, poor attitude in interviews and unwillingness to talk about his past troubles, he's probably flakier than a croissant.
The best of the imports eligible for the draft is Russia's Alexey Schved, but one other European that has been getting a lot of attention recently is Italy's Pietro Aradori. Along with Mikhail Torrance, teams looking for combo guards are showing strong interest in Armon Johnson, White, Vasquez, Matt Bouldin and Jon Scheyer.
FASTER THAN A SPEEDING BULLET
166 players were tested at the Chicago pre-draft camp, in Portsmouth and in private workouts. One of the critical factors teams look for in a shooting guard is court quickness. Among the players that participated in the ¾-court sprint, only nine clocked under 3.2 seconds, but six reside at the off-guard position.
The purpose of the ¾-court sprint test (75 feet, 22.86 meters) is to determine acceleration, maximum running speed and speed endurance. The equipment used for this test consists of a marked basketball court, four cones, stop-watch or timing gates. The test involves running a maximum sprint over 3/4 of a basketball court. The athlete will line up at the placed two cones/timing gates at the baseline and free-throw lane lines, and finishes the test at the two cones at the elbows of the opposite free-throw line.
Starting from a stationary position behind the court baseline, with one foot up to the line (a two-point stance), the athlete provides teams with hints of his ability to maximizing his speed and he continues to run hard past the finish markers. If using hand timing, the stop-watch is started with the player's first movement.
The best performers at this position in the agility test were James Anderson (3.19), Avery Bradley (3.14), Armon Johnson (3.19), Mikhail Torrance (3.17), Terrico White (3.15) and Xavier Henry (3.18). The best performance in this drill was forward Trevor Booker (3.1), as small forward Wesley Johnson clocked in at 3.14 and point guard John Wall chipped in with 3.14.
LOOKING AT THE STATS SHEETS
NCAA-wide, scoring was down a bit last season. Just 26 Division I players averaged more than 20.0 points per game for their teams, including six athletes that will be drafted at shooting guard. The nation's scoring leader was Houston off-guard Aubrey Coleman (25.6 points per game), but at a shade over 6:01, he will more likely have to shift to point guard in the NBA. Devan Downey-South Carolina ranked fourth with a 22.5-point average, but at 5:09, he will have to follow the same route that Coleman will, if he hopes to play at the next level.

Evan Turner poured in 20.4 points per game and is joined in the 20-point club by James Anderson (22.3 ppg), David Kool (21.6 ppg), Reggie Holmes (21.4 ppg), Dominique Jones (21.4 ppg) and Jordan Crawford (20.5 ppg). Kool and Holmes are not considered as potential draft choices. While Coleman and Downey will have to shift to point guard, Greivis Vasquez will go the opposite route. At 19.6 points per game last year, he's shown that he can make the adjustment to the "two" spot. The best of the imports, Alexey Schved, went through an adjustment period in his first season with Dynamo Moscow last year, averaging just 9.1 points, but earlier in his career with CSKA Moscow, he produced averages of 19.0 points and 18.1 points in back-to-back seasons.
While putting up points is a premium, teams don't want their gunslingers taking foolish shots. To be successful at shooting guard, high percentage field goal specialists are usually reserved for the "big boys" residing around the basket for put-backs and dunks. Of the top fifty players on the NCAA field goal percentage chart last year, just four guards appeared among that group, but none of that quartet is considered even camp players.
Long range shooters are highly desirable by NBA teams at this position. Hitting the "trey," especially in crunch situations is the stuff legends are made of. On last year's top fifty three-point percentage list, 46 of them were guards. The two best performances by shooting guards came from Andy Rautins (40.6%, 2.8 treys made per game) and Jon Scheyer (38.3%, 2.8 pg), but both are fringe second round draft prospects. Alexey Schved struggled from the perimeter last season (28.8%), but has made 36.8% of his treys during his career.
Crashing the boards is a task usually reserved for frontcourt performers, evident by 48 of the NCAA's top rebounders last year playing forward or center. The two guards that crashed the "Top 50" were Evan Turner (40 at 9.2 rebounds per game) and Paul Millsap's baby brother, Elijah, who ranked 31 in the nation with 9.4 boards per game.
Ball facilitators usually reside at the point guard position, as "two" guards are more of the "shoot first and shoot second" types, not really known for being generous in creating shots for others. All of the NCAA's top assists leaders were guards. Some off-guards with an unselfish attitude were Greivis Vasquez, placing fifth nationally with 6.3 assists per game. Evan Turner ranked tied for sixth (6.0 assists per game). Armon Johnson dished the ball to teammates 5.6 times each contest and other notable averages came from Mikhail Torrance (5.1 apg) and Andy Rautins (4.9 apg).
You won't find too many "Willie Sutton" type of ball thieves among the shooting guards eligible in this draft. Aubrey Coleman ranked sixth in the nation with 2.7 steals per game. Kevin Palmer, more likely a free agent, chipped in with an average of 2.4 steals and the best number by an early first round prospect was Paul George, coming in at 2.2 per (21 nationally). Andy Rautins continued to place his name among the nation's leaders in several categories, ranked 41 (2.0 spg) in steals.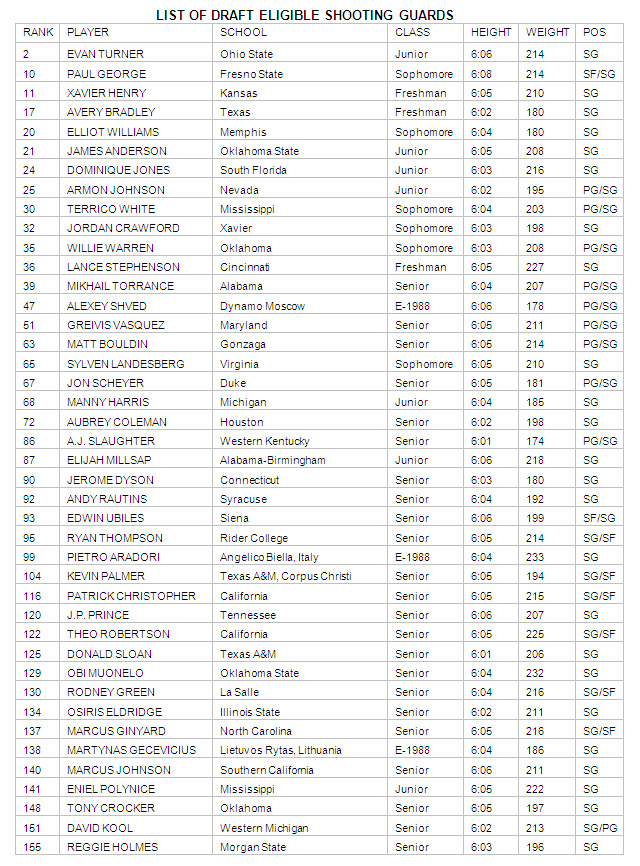 GAZING INTO THE CRYSTAL BALL
With one eye toward the future, this is my prediction on how the shooting guards eligible for the 2010 NBA Draft will fare during their professional careers, listing their three best attributes that they will bring with their game;
CREAM OF THE CROP: EVAN TURNER, Ohio State - Turner's length and standing reach (8' 7 ½") makes him a highly effective rebounder, especially when utilized on the wing… Plays with impressive court vision and the ability to vary his speed moving up and down the court…Very creative with the ball in his hands, constantly getting the defender off balance with his ability to stop, change gears and re-direct, using highly effective pump fakes and hesitation moves to force the opponent to over-commit…Shows good ball handling skills operating as a point forward and despite his 6:06 frame, he plays with a low center of gravity and good body control to weave in and out of traffic.
Possible NBA Suitors …The general consensus is that Philadelphia will use the second pick to take Turner. If Doug Collins convinces management that he needs a big man rather than a scorer, the loud shouts you will hear are coming from the Nets office, who make like Speedy Gonzalez getting their card up to the podium by grabbing Turner at #3…If I Was an NBA GM… You have to score points and if healthy, Turner has the ability to do that, and then some. If I can give a nudge, wink and push to Philadelphia, Turner goes with the second choice.
MOST OVERRATED: LANCE STEPHENSON, Cincinnati - Tall, strong-looking off-guard with the wingspan (6'11"), standing reach (8'7"), leaping ability (33-inch vertical jump) and core strength (10 reps in the bench press) to finish strongly at the basket…Developed a reputation for being selfish with the ball in his hands (thinks shoot first, shoot second), but dispelled a bit of that high school rap later in his college freshman year by showing that he was could locate better scoring opportunities by feeding the ball off to his teammates (second on the team with 84 assists)…Comes off curls smoothly and is effective pulling up and firing from mid-range with either hand.
Possible NBA Suitors… If Atlanta loses Joe Johnson to free agency, they have Stephenson to consider at #24. If New Jersey takes a power forward with the third choice, they will look for a shooting guard with the #31 pick and have considered the Cincinnati guard there. Miami (#41) is also looking into Stephenson's past to see if he might fit in. Imagine the bottles of aspirins for the coaching staff – Stephenson teaming with Michael Beasley. It will be a basketball version of "Girls Gone Wild"…If I Was an NBA GM… Hand me a 12-foot pole. Why? Because I wouldn't touch Stephenson with a 10-foot one.
MOST UNDERRATED: DOMINIQUE JONES, South Florida - Has the powerful-looking frame with minimal body fat (5.9%), good wingspan (6'9") and standing reach (8'5")…He opened eyes at the Chicago pre-draft camp when he registered 19 reps in the bench press, fourth-best among the players in attendance and best among the camp's backcourt prospects…Very physical player who does a great job of drawing contact on the way to the basket, setting the school season-record by making 209 free throws as a junior…Lacks ideal height for an off-guard (more suited for the point, but is too inconsistent as a ball handler), but utilizes his reach and long arms to pester shooters and disrupt the action in the passing lanes (eighth in school history with 144 steals), as he also makes up for a lack of ideal height with very quick feet and excellent strength to drive to the basket almost at will.
Possible NBA Suitors… Jones is not getting much "love" as a two-guard from NBA teams, at least not from those at the top part of the draft, but I really like this guy, as he can also play the point. Atlanta might be wiser to look into Jones at #24, if he and Stephenson are still on the board. Memphis seems to agree with me that Jones (#25) has combo guard ability and taking him might help facilitate a trade of Mike Conley (Portland, to re-unite with Greg Oden). Orlando is strongly considering moving up from the #29 spot, with Jones their primary target…If I Was an NBA GM… If I was Chicago (#17), it would be a no-brainer that I would grab Jones to replace the scoring I lost when Ben Gordon departed. He can spell Derrick Rose for a few minutes at the point and if teamed in the same backcourt, Jones would be like the plant in "Little Shop of Horrors" (with Rose getting him the ball – feed me, feed me). Call me nuts, but with the Bulls, Jones could vie for Rookie of the Year honors. Hey, keep that straight-jacket away from me until next April!
SUPER SLEEPER: GREIVIS VASQUEZ, Maryland - Yes, he played point guard, but with his scoring touch, he can easily make the move to the two spot…Plays with great court intensity and has a good scoring mentality and the ability to create his own shot, making up for a lack of athleticism and quickness…Has been highly productive feeding his teammates with crisp passes and is a solid ball facilitator, thanks to his consistent ability to create for others…Demonstrates good court vision, moving well in transition and is bigger than most point guards, as he uses that reach and wingspan to be efficient in attempts to alter shots…Adequate rebounder for a backcourt player and even though he might be out-weighed by most forwards, he will crash the boards vs. them when going for put-back from the offensive glass.
Possible NBA Suitors… The Knicks are desperately trying to secure a late first round pick to take Vasquez. A possible trade partner could be Memphis (#25, 28), but the Grizzlies could decide to take him instead. The Lakers (#43) are targeting Vasquez as a combo guard, but if he slides into the second round, he won't get past the Knicks at their present pick (#38)…If I Was an NBA GM… If Dominique Jones is gone and I was picking for Atlanta at (#24), I'd first see what the Knicks might offer for the pick. If that fails, Vasquez is my next-best option, outside of Jones, to fill the expected two-guard vacancy created by Joe Johnson's departure through free agency.
FINAL THOUGHTS
Based on where they will more likely play in the NBA, below are some thoughts on the shooting guard class;
DAVE-TE'S POWER FORWARD ELITE (Players I feel will play in the NBA All-Star Game one day.)
Evan Turner - Ohio State

Paul George - Fresno State

Xavier Henry - Kansas

Dominique Jones - South Florida
LUNCH PAIL SQUAD (Players I feel will bring good value as role players for their respective teams.)
Dominique Jones

- South Florida

Terrico White - Mississippi

Greivis Vasquez - Maryland
BOOM OR BUST (Players I feel will either make a big impact or seek employment in another career before long.)
Elliot Williams - Memphis

Willie Warren - Oklahoma
THE SUPER SLEEPER SQUAD (Relative unknowns who could be nice finds on draft day.)
Dominique Jones

- South Florida

Alexey Schved - Dynamo Moscow

Matt Bouldin - Gonzaga

Kevin Palmer - Texas A&M Corpus Christi
BUYER BEWARE UNIT (Players I feel that will go much higher than their skills dictate.)
Willie Warren

- Oklahoma

Lance Stephenson - Cincinnati

Jordan Crawford - Xavier