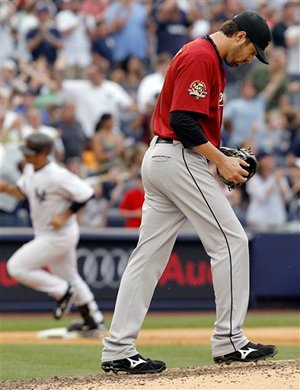 It doesn't seem that the
Astros
left a positive impression on New York Daily News
columnist
Bill Madden during a three-game sweep at Yankee Stadium last weekend.
In fact, watching the hapless Triple-A-stros set him to wondering about whether baseball should institute some version of the process used by English soccer in which the worst teams are demoted from the top-tier division and the best second-tier teams can move up.
"(Owners) who refuse to give their baseball people the financial resources to acquire the best talent should have to pay a price for that insult to the fans," Madden wrote, "by having their teams consigned to baseball purgatory from which they have to play their way out of, without sharing in the revenues of the real major league teams."
It is frustrating to watch teams seemingly sit around and collect TV and revenue sharing money while not seeming to make an honest effort to field a competitive team. But the logistical and financial realities of demoting and promoting teams would probably create more problems than it solved.
Madden's complaint is that fans are paying major league prices to watch minor league-quality teams. But if you consign the
Pirates
to Triple-A, or some newly created level of play, what you're doing is depriving fans in Pittsburgh from being able to see major league talent -- and the fans aren't the ones who picked the owner.
-- David Andriesen

For more baseball news, rumors and analysis, follow @cbssportsmlb on Twitter.