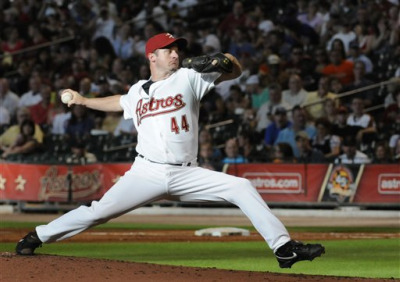 There are
conflicting rumors
flying around today about a possible deal sending
Astros
right-hander
Roy Oswalt
to the
Rangers
.
Oswalt has demanded a trade to a contender, and the first-place Rangers would qualify at this point. It is worth noting, however, that Oswalt has a say on accepting any deal. And as a resident of Houston, he is well-aware of the difference between being indoors (Minute Maid Park) and outdoors (Rangers Ballpark in Arlington) in Texas for the summer.
Even if Oswalt would give it the nod, such a deal seems like a major stretch considering the financial pickle the Rangers are in. The team is in bankruptcy, and Major League Baseball is in control of the team's finances. Oswalt is due about $27 million on his contract, which is a) an awful lot of money for a bankrupt organization to be throwing around; and b) an awfully big obligation for MLB to assign to future owners who probably wouldn't have any say in it.
The Rangers mess, Oswalt notwithstanding, is due to land in bankruptcy court Tuesday. Tom Hicks' group is negotiating with a group that includes ex-Ranger Nolan Ryan, while Houston rich guy Jim Crane is trying to derail that and buy the team. The
latest news
is that documents show the Ryan group would get $10 million from Hicks & Co. if they don't end up with the team. Perhaps the best part of the agreement is that Hicks, under whose watch the team went bankrupt, would get to keep a 1 percent stake in the Rangers, the title of Chairman Emeritus and complimentary season tickets and parking passes.
Maybe the Rangers should try offering Oswalt some parking passes.
-- David Andriesen

For more baseball news, rumors and analysis, follow @cbssportsmlb on Twitter.