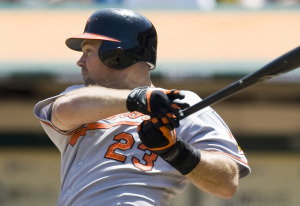 The Texas
Rangers
have long been searching for a reliable right-handed bat who can come off the bench.
In the offseason, GM Jon Daniels thought he found his man in
Mike Lowell
when the
Red Sox
agreed to swap Lowell to Texas for catcher Max Ramirez and a hefty sum of cash to help offset Lowell's $12 million salary.
Even though that trade fell apart once it was revealed Lowell needed surgery on his right thumb, the Rangers haven't stopped their search.
Ryan Garko was claimed off waivers from the Seattle
Mariners
and was so unimpressive, he was sent to Triple-A on May 14. Even calling up top prospect
Justin Smoak
to man first (with Chris Davis joining Garko in Oklahoma City) hasn't lessened the need for a backup right-handed bat.
Now, the Rangers have turned their sights onto Baltimore Oriole
Ty Wigginton
and Florida Marlin
Wes Helms
,
reports
Jeff Wilson of the
Ft. Worth Star-Telegram
.
Both Wigginton and Helms (as well as Lowell) would predominantly play against left-handers, if acquired, filling a glaring weakness on the club. While Smoak's numbers against righties are more than fine (.283/.408/.485), he has just five hits against lefties, "good" for a .098 batting average.
Wigginton, 32, has bounced around several clubs and is currently with the Baltimore
Orioles
. Despite getting off to a fast start and being a strong full-time player for the O's, Wigginton has proved in his career thus far that his game is best suited to starting against lefties and being a top option off the bench against righties. Baltimore may want more than Texas is willing to give up, however, given Wigginton's strong start to the season plus his ability to play multiple positions.
That's where Helms, 34, comes in.
Helms has carved out a nice career for himself as a bench player, and has amassed at least 231 at-bats in each of his nine full-time seasons save for 2005 with Milwaukee. While he finds himself challenged by righties over his career (.712 OPS), he has no such qualms against lefties, cranking them to the tune of a .803 OPS. Helms would come at a lower price than Wigginton by virtue of age and production.
The cash-strapped Rangers may also prefer Helms' $950,000 salary on the year over Wigginton's $3.5 million. While the team works through the debts of owner Tom Hicks and the morass that is the sale of the team, Texas can't afford to take on much salary without the consent of the powers that be in the MLB offices. A
report earlier today
linking
Roy Oswalt
to the Rangers was debunked, largely due to the Rangers' inability to take on salary.
-- Evan Brunell
For more baseball news, rumors and analysis, follow @cbssportsmlb on Twitter.