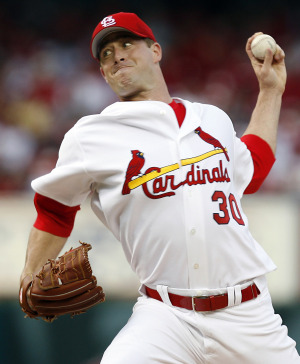 "Yeah, I guess I am [retired]," Mulder said on Monday.
And so closes the chapter of one-third of the vaunted Big Three that terrorized hitters in Oakland.
Mulder told Jeff Fletcher of AOL Fanhouse
the news
, saying, "I haven't touched a baseball since February."
While Mulder's retirement had been mentioned by former pitching coach Rick Peterson in spring training, it wasn't until Mulder uttered these words that made it official. He finishes a career brought to a quick end by injury with a 103-60 record.
For five years, Mulder paired up with
Tim Hudson
and Barry Zito starting at age 22 to form an impressive rotation that made the playoffs four straight years from 2000-03. With Mulder approaching free agency, he was traded in December 2004 to the
Cardinals
for
Daric Barton
, Kiko Calero and
Dan Haren
.
Mulder was able to give St. Louis one season of production, going 16-8 with a 3.64 ERA over 205 innings. After that, however, disaster struck. Despite starting 2006 with no ill effects, Mulder quickly fell apart and it was discovered he suffered from rotator cuff and shoulder problems. He underwent surgery that would knock him out for most of the 2007 season.
Mulder became a free agent after the 2007 season and he opted to return to the Cardinals on a two-year deal despite being wooed by the
Indians
and
Rangers
. When he was activated in September of 2007, the lefty promptly put up a 12.27 ERA in just three starts. He then underwent another round of rotator cuff surgery and had yet another aborted comeback in 2008.
For those counting, over three seasons from 2006-08, he had two surgeries and a 7.73 ERA in 106 innings -- all but 12 2/3 of the innings coming in 2006. After becoming a free agent again, he didn't pitch during the entirety of the 2009 season and flirted with a comeback with the Milwaukee
Brewers
prior to the 2010 season before shutting it down.
And just like that, a career that saw him throw his last pitch in the majors at age 30 and last put up a productive season at age 27 was over. He'll be remembered as a pitcher with above-average command and an ability to work deep into games. He crossed the 200-inning barrier four times, topping out at 229 1/3 inngs pitched in 2001 at age 23 -- the same year he won 21 games and finished second in Cy Young voting behind Roger Clemens.
Mulder is now making the rounds on the amateur golf circuit but has no interest in going pro -- although he plans to attempt qualifying for the US Open over the next few years.
-- Evan Brunell
For more baseball news, rumors and analysis, follow @cbssportsmlb on Twitter.