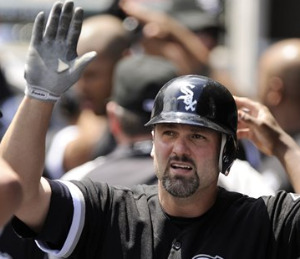 The Los Angeles
Angels
of Anaheim don't know how to quit.
The Angels lost
Chone Figgins
,
Vladimir Guerrero
and
John Lackey
to free agency. They watched their new third baseman,
Brandon Wood
, fizzle. They had to deal with a freak accident putting
Kendry Morales
on their shelf for what seems to be the remainder of the year.
And yet the Angels are 36-30, a half-game behind the Texas
Rangers
.
So far, the Angels have resisted the urge to panic after taking a look at the motley crew that comprises their lineup. They've stayed the course, hoping
Mike Napoli
can man first on a regular basis once
Jeff Mathis
returns from the disabled list to catch.
Is that the right course for the team, though?
Bill Shaikin of the
Los Angeles Times
says
that the Angels could have
Paul Konerko
"today," if they wanted to. Whether that means the Angels have a deal in place or can get Konerko as long as they give up enough, nobody knows.
This isn't the first time Konerko has been linked to the Angels. He seemed to be on the verge of signing with the Angels following Chicago's World Series victory in 2005, only to remain with the club.
Konerko is enjoying a career season at the age of 34. He currently has 17 home runs on the season and is hitting at a .291 clip. He would help near every team on the market, but the Angels aren't exactly hot to trot for his services.
That's because, for all the doom and gloom surrounding their offense, the Angels rank sixth in all of baseball with 313 runs scored. A lot of that has to do with manager Mike Scioscia's patented brand of aggressive offense, but also the efforts of players such as
Torii Hunter
and Napoli.
The Angels might be wise to see how the next month plays out before deciding whether or not to cash in on Konerko. The
White Sox
aren't going to yank Konerko from the market, and LA ranks 21st in the bigs in ERA with a 4.40 mark.
-- Evan Brunell
For more baseball news, rumors and analysis, follow @cbssportsmlb on Twitter.