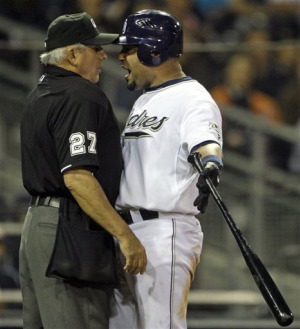 The
Padres
are in first place, which is amazing because their offense is shakier than
a night at Petco Park.
San Diego is 13th in the National League in runs scored, 14th in batting average and 14th in OPS (on-base plus slugging). So how in the world is a team that's batting .245 leading its division? By being really, really good at preventing runs -- best in the NL in ERA (3.01), earned runs allowed (197) and strikeouts (503).
The bullpen is particularly impressive, with a 2.66 ERA. That's nearly
five runs
lower than the team at the other end of the NL West, Arizona.
If the Padres are going to keep this going, and want any chance of being successful once they reach the postseason, they're going to have to improve the offense. The downside is that to acquire one or more bats before the trade deadline, they're probably going to have to break up their dominant pitching staff. You've got to give something to get something, and pitching is what San Diego has to give.
Padres GM Jed Hoyer told
San Diego Union-Tribune
columnist Nick Canepa he's reticent to undermine the organization's pitching depth.
"Pitching depth can evaporate faster than anyone can imagine," Canepa said. "I'm not ruling anything out, but you have to be careful when you start trading your quote-unquote 'pitching depth.'
"Everybody wants pitching depth. I'd rather have pitching depth than bring in one more bat that may not help us in the long run. I'm not saying I won't do it, but it's risky."
-- David Andriesen

For more baseball news, rumors and analysis, follow @cbssportsmlb on Twitter.