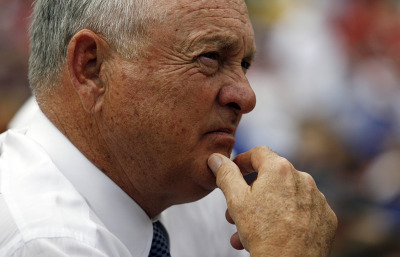 At a bankruptcy hearing today in Fort Worth, Texas, the judge said he "
tended to agree
with the
Rangers
' argument" that the creditors of Hicks Sports Group, the bankrupt ownership group, were hurt by HSG accepting the bid of a group headed by former Rangers great and current team president Nolan Ryan (left).
Basically, Houston rich guy Jim Crane says he offered more money for the team than Ryan's group, but the Rangers argue that factors beyond purchase price, including the likelihood of the sale being approved by baseball's other owners, were important enough to offset any price difference.
One of the purposes of today's hearing is to determine whether the people owed money by HSG, and would presumably get less in a lower-price sale, would be impaired by the sale to the Ryan group.
The creditors get to make their arguments this afternoon. One of their biggest creditors:
Alex Rodriguez
, who has been gone from Texas for six years but is still owed $24.9 million in deferred compensation. A-Rod is slated to play tonight in New York, so presumably he won't be dropping by the court to give them a piece of his mind.
It's a complicated story, but the upshot is this:
Today's developments
indicate the sale to the Ryan group could be allowed to proceed soon. That would mean the team, which is being operated through a line of credit extended by Major League Baseball, would return to business as usual. And the Rangers' ownership group would have 5,714 more strikeouts than anybody else's.
-- David Andriesen

For more baseball news, rumors and analysis, follow @cbssportsmlb on Twitter.