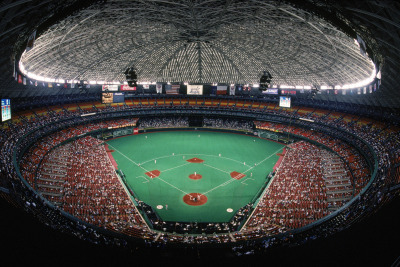 The Astrodome is an antique, a hulking relic that costs Houston more than $2 million each year just to insure and keep upright. Its last sports tenant was the Houston Energy of the Women's Professional Football League, who departed in 2006.
So what do you do with a problem like the Astrodome? If you're Houston, you pump $1.35 billion (yes,
billion
) into it.
Local officials on Tuesday
unveiled a plan
to renovate the Astrodome (technically it's now called the Reliant Astrodome) and convert it into a convention and science center that would be called Astrodome Renaissance.
That was the most expensive of three possible plans laid out. A $1.13 billion plan would upgrade the stadium to a lesser extent, and an $873 million plan would raze the dome and turn the area into a plaza (it was not immediately clear how knocking down a building costs $873 million, which is more than twice what it cost to build the humongous Reliant Stadium next door).
The sticking point is that Harris County taxpayers would have to pay for at least a third of any plan, and vote to do so by referendum.
The Astrodome (pictured here during a 1995
Astros
game) was the first domed, multipurpose, air-conditioned stadium in the world, hailed when it opened in 1965 as the "Eighth Wonder of the World." It housed the Astros from 1965-99. It also gave us the first artificial turf, which was hastily developed when grass didn't grow in the dome as intended.
-- David Andriesen

For more baseball news, rumors and analysis, follow @cbssportsmlb on Twitter.