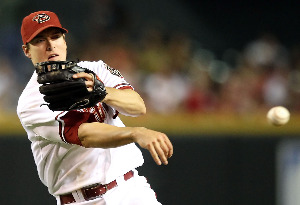 Kelly Johnson
has been one of the biggest surprises of the 2010 season, getting the season started off with 13 home runs and a .282/.383/.546 line.
Now he may be on the way out.
FOX Sports' Jon Paul Morosi
reports
that an industry source believes Johnson may be the next DBack dealt on the heels of the
trade
of
Conor Jackson
. A trade of Johnson wouldn't harm the
Diamondbacks
in terms of depth at second base as
Tony Abreu
has just been activated off the disabled list and is considered by many to be Arizona's second baseman of the future.
The former Brave was non-tendered then inked by the Diamondbacks to a one-year deal wirth $2.35 million. The club also holds the right to retain Johnson's services in 2011 via arbitration, as Johnson will not have enough service time to qualify for free agency. This bolsters Johnson's trade value, and the Diamondbacks should be able to get a significant piece (or pieces) in return for Johnson should teams come calling.
Teams that might be interested in Johnson include:
Angels. Their losses -- especially on offense -- have been well-documented. Acquiring Johnson, who also has the ability to play left field, could go a long way in ensuring their offense lasts for the rest of the season. Current second baseman Howie Kendrick is struggling to produce.
Rockies. The Diamondbacks would likely be OK with dealing with an intradivision rival because Arizona is out of it already. The Rockies have Clint Barmes currently manning second and Eric Young, Jr. on the shelf. Acquiring Johnson would deepen Colorado's offense.
Cardinals. St. Louis is trying to win, and Skip Schumaker's .240/.305/.308 line is making it difficult for it to. The Cards are already struggling to generate offense out of shortstop.
Tigers. Detroit already cut bait with Adam Everett because of his incapability of hitting the broad side of a barn with his bat out of the shortstop position. It also demoted Scott Sizemore, who entered the season as a rookie second baseman, for lack of production. The Tigers' players up the middle now consist of Carlos Guillen -- playing second for the first time since 1999 and with only 12 career games coming into the year -- and Danny Worth. Johnson would certainly bring thump.
Athletics. The A's are trying to return to respectability and are right in the thick of things for the division race. Offense has been a problem in Oakland for the last few years, though, and Cliff Pennington at shortstop is giving nothing of value. While Mark Ellis is producing capably at second base, he's not a long-term answer and has battled injuries in recent years.
Mets. That's assuming New York can somehow wiggle out of Luis Castillo's deal, which they have been trying to do for years. But the Mets certainly need offense as well, and would love to fit Johnson's 13 home runs -- which would lead the Mets -- into their lineup.
-- Evan Brunell

For more baseball news, rumors and analysis, follow @cbssportsmlb on Twitter.