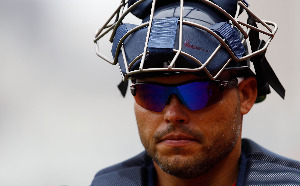 At age 38,
Ivan Rodriguez
is still going strong.
Most catchers have washed out by this age due to the unrelenting pressure put on the knees of the diamond's captain, but not I-Rod. As a matter of fact, Pudge has his eyes set on 3,000 hits.
"That's something I definitely think about," Rodriguez
said
to MLive.com. "I'm just going to take it one at-bat at a time, one game at a time ... and when that moment comes, it's going to be unbelievable. To reach 3,000 hits in the major leagues is a great accomplishment."
Rodriguez currently has 2,759 hits through
Tuesday's game
with a .336 batting average (48 hits) over 143 at-bats. That projects out to 164 hits for the season over 490 at-bats. Assuming a regression in batting average -- his career mark is .299 and he has not been over .300 since hitting it on the nose in 2006 -- and playing time (
Jesus Flores
is due back shortly and will receive ample playing time), he should still finish in the neighborhood of 125 hits. That would place him at 2,836 by season's end.
That's just 164 hits away from 3,000. He'd have to turn in a season of batting .300 in full-time duty in 2011 to attain the record, but even playing part-time, should be on track to nab the milestone in 2012.
Rodriguez's contract runs through next season, so he may have to set the mark with another team. But he's so close, that he's a virtual lock to achieve 3,000 hits. Manager Jim Leyland, for one, thinks he can do it.
"He's been able to last because he's kept himself in great shape," Leyland said. "He goes to the gym on the road every day. And when you think of a catcher doing that, it is absolutely amazing."
Rodriguez is already the career hits leader for catchers, miles ahead runners up Ted Simmons, Carlton Fisk, Yogi Berra and Mike Piazza.
Pretty soon, he'll be able to call himself a member of the 3,000-hit club, too.
-- Evan Brunell

For more baseball news, rumors and analysis, follow @cbssportsmlb on Twitter.