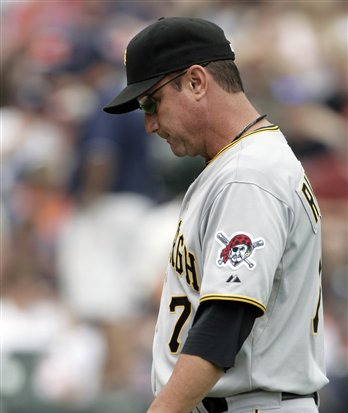 The Pittsburgh
Pirates
may be in the midst of its worst performance since GM Neal Huntington and manager John Russell took over, but president Frank Coonelly isn't giving up.
Amid speculation that Russell
was on the hot seat
, Coonelly announced that both Huntington and Russell had their contracts extended through 2011.
The extensions happened in spring training, when Russell's option was exercised and Huntington's had an extra year tacked on. Coonelly has resisted clarifying contract statuses in the past, but felt the need to do so amid whispers a change would be forthcoming in management.
"While we have demonstrated in the past that a contract will not prevent us from making a change if one is appropriate and thus contract status truly is irrelevant, we will confirm that during the offseason we exercised the club's 2011 option on JR's contract and added a fourth year to Neal's contract," Coonelly wrote in a statement via e-mail,
reports
the
Pittsburgh Tribune-Review
.
"We did so because we believed that they were successfully implementing the organization's vision of building a baseball organization that could compete for championships on a consistent basis," Coonelly added.
While Russell's contract status would not inhibit a firing if the team felt the need to, it's clear the Pirates have no interest in severing ties with Russell.
"While dismissing the manager when the club is performing poorly is common in this industry, it is not the appropriate response in this case," Coonelly said. "JR's contract status has played no role in this determination. "
Despite the poor play thus far (23-42 entering play Thursday) the team has graduated several top prospects to the bigs recently.
Pedro Alvarez
joined
Brad Lincoln
and
Jose Tabata
on Wednesday, forming a core along with
Andrew McCutchen
the team hopes will push Pittsburgh back to respectability -- soon.
-- Evan Brunell

For more baseball news, rumors and analysis, follow @cbssportsmlb on Twitter.