See, the way this interleague play thing works is that you play by National League rules in National League parks and by American League rules in American League parks. So, if say, you're playing at Wrigley Field, pitchers have to hit.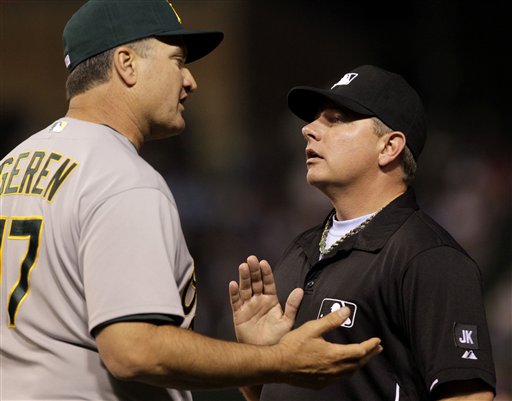 Oh, wait, you knew that? Oakland manager Bob Geren apparently didn't. Perhaps Billy Beane should have gotten off his exercise bike to let him know that for Thursday's game against the
Cubs
.
Instead
Jerry Blevins
was in the game in the ninth and loaded the bases with three walks before
Kosuke Fukudome
's walk-off single.
In the eighth inning, the A's led 2-1 when
Michael Wuertz
loaded the bases and with one out, Geren brought in his closer,
Andrew Bailey
. That sounds about right, it's the highest-leverage situation. Where he went wrong was not double-switching, knowing the pitcher's spot (in this case, the No. 6 spot) was coming up to lead off the ninth.
In fairness, Geren showed an awareness of the National League rules in the seventh inning when he had
Gabe Gross
hit for
Dallas Braden
and stay in the game in right field, replacing
Jack Cust
.
But in the eighth, Geren brought Bailey into the game and made no other move. Bailey suffered his third blown save of the season when he gave up a sacrifice fly to
Xavier Nady
, before getting
Alfonso Soriano
to ground out to end the inning.
Ryan Sweeney
singled to lead off the inning, but the A's couldn't get him in, setting up Fukudome's heroics.
The A's bullpen blew the win for Braden, who still hasn't picked up a victory since his perfect game on May 9. Braden was in line for the win after allowing just one run on five hits in six innings.
-- C. Trent Rosecrans
For more baseball news, rumors and analysis, follow @cbssportsmlb on Twitter.