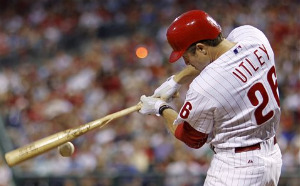 Chase Utley
hasn't been himself so far in 2010, and now we know why.
First-base coach Davey Lopes of the
Phillies
chatted
with Baseball Prospectus on various aspects of the game, primarily stealing bases. Lopes indicated that the reason the team hasn't been stealing bases or going first to third as often is in part due to Utley having a "little bit of a knee injury."
Utley is batting .257 on the year in 273 plate appearances which is his lowest since his first year in the majors, when he amassed a .239 batting average in just 134 at-bats. While his plate discipline remains, his power has downticked as well. All together, he's posting a .829 OPS which would be the lowest of his full-time career.
Utley hasn't been getting any better, either. He batted .275/.431/.550 in April, followed that up with a .278/.360/.485 mark in May and is currently under the Mendoza line with a .184 average and puny .224 slugging percentage.
And a year after posting 23 stolen bases and not being caught once, he's got four bags swiped and been thrown out once.
The injury obviously isn't significant enough to land Utley on the disabled list or even the bench, but unless he snaps out of his funk soon, rest may be the best remedy for the All-Star second baseman.
UPDATE:
Utley
tells MLB.com's Todd Zolecki
that he isn't injured.
"I think there's a little confusion, and maybe a little bit of a difference of opinion with what Davey said," Utley said. "In my opinion, an injury is something that keeps you off the field. When you play 162-games-plus over the course of the year, you're going to have aches and pains. That's part of this game. That's part of being a baseball player. In my opinion there's no injury whatsoever."
-- Evan Brunell

For more baseball news, rumors and analysis, follow @cbssportsmlb on Twitter.