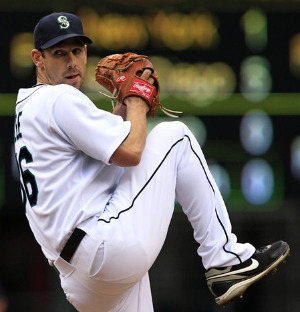 The Texas
Rangers
aren't letting their
bankruptcy
issues derail their quest for an AL West title.
Rather, the Rangers are willing to acquire high-salaried players if it means getting a frontline pitcher,
according to MLB.com
.
"We've had some preliminary discussions with clubs," said assistant general manager Thad Levine. "But to compel teams to move this far ahead of the [July 31st] trade deadline, it would take a very attractive package. We're still in the inventory stage and the information-gathering stage rather than the execution phase."
MLB.com noted that the Rangers are in on
Roy Oswalt
as well as
Cliff Lee
, expanding the number of known
Lee suitors
to four.
If the pending sale of the Rangers is approved to the Chuck Greenberg/Nolan Ryan group before the trade deadline, the Rangers would be able to take on payroll. However, if no sale has occurred, Texas will have to make sure any trade either decreases payroll or stays steady. To entice another team to take on a high-salaried player, the Rangers would likely have to offer additional prospects.
Making trades with cost-saving motivations is risky. The
Dodgers
swapped prospect
Carlos Santana
to the
Indians
two years ago for third baseman
Casey Blake
and had to surrender Santana in exchage for Cleveland eating most of Blake's remaining deal at the time. Now, Santana is one of the best catching prospects in the game who just made his major league debut while Blake is 36 years old.
The Rangers are suffering from a dearth in starting pitching.
Rich Harden
and
Derek Holland
are
working their way back from injury
, and Texas has had to alter its plans to make Brandon McCarthy a reliever.
Acquiring Lee, Oswalt or another top-flight starter would certainly make a significant difference in the AL West race, where Texas leads Los Angeles by 2 1/2 games.
-- Evan Brunell

For more baseball news, rumors and analysis, follow @cbssportsmlb on Twitter.