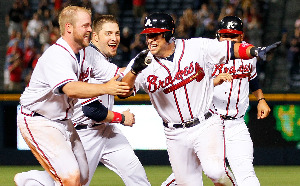 By
Tim Hudson
's own admission, the
Braves
of recent years haven't exactly been tough. But that's changed.
"[Opponents] know that we're no pushovers. The way we pitch, the way we play defense, we put together good at-bats, we don't throw away many at-bats," Hudson told David O'Brien of the
Atlanta Journal-Constitution
. "I just think we have a little bit of a different personality out there on the field, and it shows in the kind of games that we play and the kind of games that we win.
"We're a tough, gritty team."
O'Brien went on to mention that the clubhouse is different from days past. Instead of a smattering of voices talking about their golf game, now everyone is included, watching TV and making fun of each other.
A big reason for the change in attitude belongs to
Eric Hinske
and
Brooks Conrad
.
Hinske, the 2002 Rookie of the Year has settled in to being a good complementary piece on a contender. It's rare for a bench player to be considered someone who can make a difference, but Hinske has three straight AL pennants (
Red Sox
,
Rays
,
Yankees
) and two rings to prove it. He's joined by Conrad, a 30-year-old rookie making the best of his chance.
Says O'Brien: "Conrad isn't going to be an All-Star and might never be more than a major league backup, but he's a lot like Hinske -- plays to win, leaves it all on the field, takes nothing for granted, hustles at all times -- and his teammates love him and feed off his energy and positive attitude."
Atlanta is currently in first place, a half-game ahead of the surging
Mets
. They boast the best run differential in the NL -- and best outside the AL East -- at +61.
Hinske adds, "It's a bunch of good dudes on this team, a bunch of guys who come out ready to play, who work the right way. We know it's a long season, but we're having fun."
If there's one thing the last few years have taught fans -- and that Hinske has seen firsthand -- it's teams that get along and have fun that you can count on to make noise in the postseason.
-- Evan Brunell
For more baseball news, rumors and analysis, follow @cbssportsmlb on Twitter.