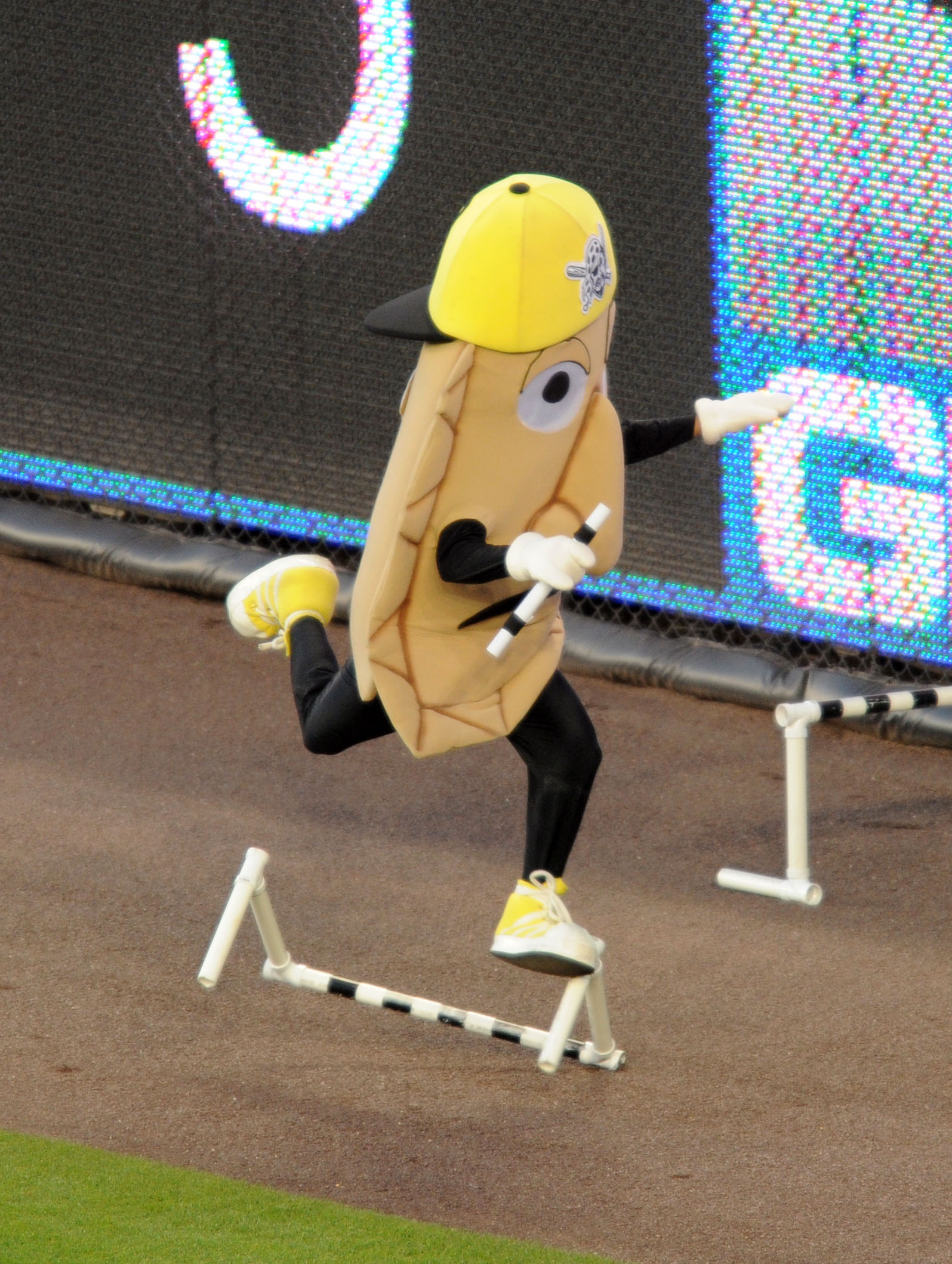 First wrestling, and now mascot races are fixed? Is there nothing sacred in this world?
The
Pittsburgh Post-Gazette buries the lead in a story about a potato-head getting fired for criticizing his employer on Facebook
. Yeah, we all know posting criticism of the people who give you money is stupid.
While Andrew Kurtz and his mom whine about him being fired for being stupid, Kurtz kills the America dream of gambling on sporting events.
The
Pirates
have had a rip-off of Milwaukee's sausage race since 1999, using local delicacy pierogi instead of sausages. Well, Kurtz has played all four of the pierogies -- Oliver Onion, Cheese Chester, Jalapeno Hannah and Sauerkraut Saul. After each race through PNC Park, the Pirates update the standings on the scoreboard, but Kurtz, already fired, spills the beans on the dirty underbelly of mascot racing.
"They try to keep it close," Kurtz tells the newspaper. "They don't want a pierogi to fall too far behind. So if Jalapeno Hannah is two, three games behind, they kind of want her to win, so they pick the fastest runner out of the four runners that are racing that night and give Hannah to that one."
And like Ric Flair, Kurtz admits to using foreign objects to influence the final outcome. Kurtz said the Jalapeno Hannah costume is equipped with a purse and "you can whack the other pirogies," Kurtz admits.
His testimony may be taken with a grain of salt, because he was recently let go by the Pirates. Kurtz, like most 24-year olds, has a Facebook page. And like most 24-year olds with a Facebook page, he's not too bright about what he posts on it.
After Pirates president Frank Coonelly extended general manager Neal Huntington and manager John Russell, Kurtz turned to his computer and wrote, "Coonelly extended the contracts of Russell and Huntington through the 2011 season. That means a 19-game losing streak. Way to go Pirates."
Within four hours, Pirates mascot coordinator Dan Miller called Kurtz and fired him.
"I told him I didn't mean anything by it, and he was like, 'Well, why'd you put it up?' I said, it was just an opinion. But he took it negative and talked to his boss. And then they wanted me to turn my uniform in," Kurtz told the newspaper, as if there was a positive way to spin "that means a 19-game losing streak."
Kurtz's mother talked to the paper too, as if besmirching the good name of mascot racing wasn't embarrassing enough, he has his mother fighting his battles for him.
"Since when, in this country, are you not allowed to state an opinion? Well, here is my opinion: The Pirates came through again and let go one of their biggest fans and dedicated workers," Mary Kurtz told the newspaper.
Mrs. Kurtz obviously isn't a lawyer and doesn't understand he's not being punished by the government for his opinion, it's by a public company that doesn't like its employees disparaging it in public.
Kurtz apparently had another strike on his record, but in the end, maybe he did learn a valuable lesson.
"Don't post personal thoughts about the boss or whoever I work for," Kurtz said. "Just keep quiet."
-- C. Trent Rosecrans
For more baseball news, rumors and analysis, follow @cbssportsmlb on Twitter.