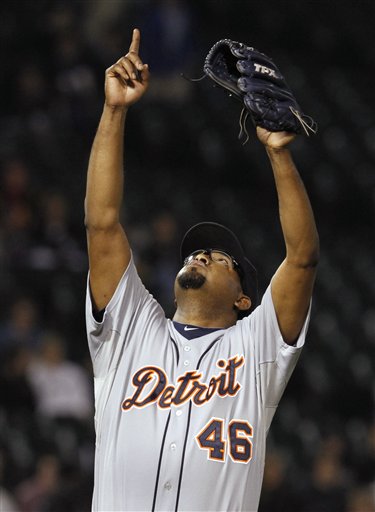 Diamondbacks
catcher
Miguel Montero
didn't mince too many words when describing the mound antics of his former teammate,
Jose Valverde
.
"He's a (bleeping) (beep)," Montero
told the Arizona Republic' s Nick Piecoro
.
Now, there are several words that could be placed in those parenthesis -- but it's likely at least one, if not both, begin with an "f".
Valverde, a Diamondback from 2002-07, has an array of histrionics he goes through after strikeouts and saves, and he had one of both Friday night against the Diamondbacks. After striking out Montero, he bent down and hopped from the dirt of the mound to the infield grass.
"The way he acts, it's not right, you know?" Montero said. "You've got to be professional. I've always felt that way. And I've always told him. That's the way he is. I guess he thinks it's right. But I don't care."
Montero struck out on three consecutive splitters in the dirt.
"I never suspected that," Montero said. "I didn't think he had that kind of brain to throw three splits in a row. It surprised me."
-- C. Trent Rosecrans
For more baseball news, rumors and analysis, follow @cbssportsmlb on Twitter.