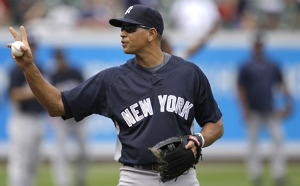 Even though it's been over a year since
Alex Rodriguez
apologized for taking performance-enhancing substances while with the Texas
Rangers
, he still ranks among the most hated sports figures.
The number, however, has dropped. After being hated by 57 percent of people in 2009 and ranking third in
Forbes
' "Most Disliked People in Sports," A-Rod has dropped to eighth place with 45 percent of the vote.
Joining him on the list is Mark McGwire, who is in his first season as the
Cardinals
' hitting coach. McGwire, who broke Roger Maris' record of 61 home runs with a then-record 70, has refused to talk about his past, lending himself to much ridicule. McGwire is now more hated than A-Rod, as he places sixth behind Michael Vick, Al Davis, Ben Roethlisberger and Jerry Jones. Terrell Owens, A-Rod, Allen Iverson and Gilbert Arenas round out the top 10.
Those who are off the list include Kobe Bryant (fifth in 2009) and
Manny Ramirez
, who placed second largely due to his ignonimous exit from Boston in 2008 and resulting suspension for performance-enhancing drugs.
-- Evan Brunell

For more baseball news, rumors and analysis, follow @cbssportsmlb on Twitter.